Shauna Campbell, DO, is a radiation oncologist at the Cleveland Clinic who specializes in the treatment of musculoskeletal and head and neck malignancies. She graduated from radiation oncology residency at the Cleveland Clinic in 2021, where she served as chief resident from 2019 to 2020.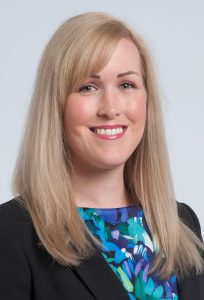 Dr. Campbell is a member of the Association of Residents in Radiation Oncology (ARRO) Executive Committee and served as chair from 2020 to 2021. She serves on committees for several radiation oncology organizations, including the American Society of Radiation Oncology, American Board of Radiology, and Radiation Oncology Institute.
Dr. Campbell has been a member of the ABR Radiation Oncology Initial Certification Advisory Committee since 2019. She is passionate about patient care, medical education, and gender equity.
She recently shared a few thoughts about her experience on the committee.
How did you become part of the ABR Radiation Oncology Initial Certification Advisory Committee?
I was invited to join as a resident representative for the Association of Residents in Radiation Oncology (ARRO). I started as a junior ARRO executive committee member and moved on to become ARRO chair last year. I recently graduated from residency and now participate as the ARRO past chair.
What were your thoughts when you were asked to join?
I was very grateful for the opportunity. The group was re-established in 2019, a time when there was a critical need for communication between radiation oncology stakeholder groups and the ABR. While the ABR is an independent organization, it is useful to have this advisory committee as a forum where stakeholder representatives can participate in discussions about board certification in radiation oncology.
Why do you think it's important for the ABR to have your advisory committee?
It is important for the ABR to have a radiation oncology advisory committee that meets on a regular basis. While the ABR has a good selection of radiation oncology representatives through the Board of Governors, Board of Trustees, executive staff, and committees, the advisory committee is a group that includes representatives from nearly all stakeholder groups. This includes resident representatives, which is important because although the resident representatives have not completed all initial certification exams, they are the candidates who are directly impacted by the decisions made, so it is important there is appropriate representation.  
What do you hope the committee will accomplish?
I believe the accomplishments of the advisory committee in 2019 and 2020 were an important component to repairing the trust between candidates and the ABR after the high rate of failure on the 2018 board exams. It was also very useful to have an established advisory committee when COVID-19 impacted 2020 board exams, and the committee was available to work with the ABR and discuss virtual alternatives.
Now that the ABR has the most modern administration of board exams, with all written and oral exams being virtual, my hope for the advisory committee moving forward is to evaluate the necessity of three separate radiation oncology written exams in addition to an oral certifying exam. Many years ago, there was a single written exam, which was split up at the request of stakeholders. However, like with any good process, repeated critical evaluation in search of areas for improvement should be considered.
What are some of your individual priorities as the committee starts work?
In addition to evaluating if the board certification process in radiation oncology can be streamlined, I would like to ensure that the relationship between the ABR and ARRO is maintained. I found participation on the advisory committee to be an important component of building the relationship between ARRO and the ABR, and as a leader of ARRO, it was important that I could go to ABR representatives with questions or concerns brought to us by residents.
---
Help spread the word