ABMS Visiting Scholars Program™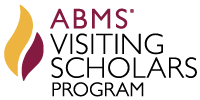 The ABR partners with the American Board of Medical Specialties to assist candidates and early career diplomates with their research efforts and leadership development through the Visiting Scholars program. 
A one-year, part-time program, ABMS Visiting Scholars facilitates research projects that address pressing health care issues and research priorities for the Member Board community. The ABR is one of 24 ABMS Member Boards. 
The ABR became involved in Visiting Scholars in 2022, choosing Cleveland Clinic physician Sara Hunter, MD, as the first recipient. The ABR's goal is to fund up to four projects each year, covering diagnostic radiology, interventional radiology, medical physics, and radiation oncology professionals.
For more information, please visit the ABMS' website or watch this video. Applications are accepted from February to June.