Getting her first grant has given Sara Hunter, MD, an opportunity to dig into an interesting project. As a bonus, Dr. Hunter started learning before she even developed her research vehicle.
Dr. Hunter was named an American Board of Medical Specialties (ABMS) Visiting Scholar this past September. The program supports early career physician specialists and research professionals by facilitating research and leadership development through engagement with the ABMS and the certification community.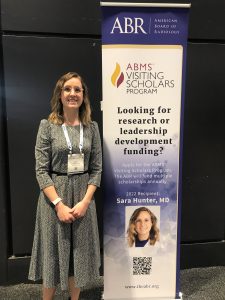 In the world of board certification, Dr. Hunter isn't a newcomer – she was on the ABR's Diagnostic Radiology Initial Certification Advisory Committee. But when she started the Visiting Scholars program, Dr. Hunter didn't know much about the ABMS and its 24 Member Boards.
"I didn't realize the ABMS was an entity before this because we learn so much about the American Board of Radiology as a resident and a fellow," said Dr. Hunter, who's a diagnostic radiologist at the Cleveland Clinic. "I realized that what we're doing in radiology is just part of a bigger picture with the ABMS. I'm seeing that they are really the overarching community. They want to make sure there's homogeneous education and certification among all specialties."
Dr. Hunter and the other nine scholars regularly meet each month with ABMS staff. They talk about their research and tap into ABMS resources to further their work.
Her project, titled, "It's Not Enough to be Up-to-Date, You Have to be Up-to-Tomorrow: How Longitudinal Assessment Encourages Radiologists to Stay Current," looks into the impact of Continuing Certification programs, like Online Longitudinal Assessment. She and her research team are finalizing the survey that they plan to send to a large group of diplomates in January.
"In just a brief time of being a part of the 2022-2023 ABMS Visiting Scholar cohort, Dr. Hunter has been actively engaged with the larger ABMS boards community," said ABMS certification standards and programs director Susie Flynn. "Her research focus will not only bring significant value to the radiology community, but to all specialties that have integrated longitudinal assessment programs into their Continuing Certification programs."
Dr. Hunter has a small team of researchers helping her; the $12,500 grant funded by the ABR helps pay for their assistance and other expenses. She estimates that she has spent a couple of hours a week on the project over the past several months. Her time has increased recently as the team finalizes the question set that will comprise the survey.
"I'm spending closer to three or four hours a week on it now," said Dr. Hunter, who's also being assisted by her mentor, Kavita Bhatt, MD. "It's not too demanding."
As a mother of two children, ages 1 and 3, she appreciates the support she has been given by the Cleveland Clinic, which provides academic time for her to be a Visiting Scholar.
"Work-life balance as a staff has been very much supported by my chair and section," Dr. Hunter said. "I also can dedicate time to this project because I have a grant associated with it."
She encourages anyone early in their careers in diagnostic or interventional radiology, medical physics, or radiation oncology to apply. The ABR plans to fund grants for all four specialties starting next year.
"This program has been a more fantastic opportunity than I even thought it would be," Dr. Hunter said. "I would highly recommend anybody in the position of senior trainee or junior faculty to apply for it."
Interested in pursuing a Visiting Scholars grant? Please visit the ABMS' information page.
---
Help spread the word