Leslie Chang, MD, is on a mission. 
A fifth-year radiation oncology resident at Johns Hopkins University, Dr. Chang is one of three American Board of Medical Specialties (ABMS) Visiting Scholars supported by the ABR. Her small team's research for the program involves establishing an education program for quality and safety in her specialty, an area that she finds lacking. 
"We want to engage residents in a six-part curriculum where they go through a project from start to end," she said. "That can include stakeholder analysis, understanding (Plan-Do-Study-Act) cycle, and knowing how to graph and analyze the data that they collect. Throughout the process, we'll be doing surveys and then quantitative and qualitative analysis to understand from the resident perspective."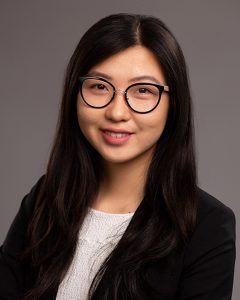 Dr. Chang's work will initially focus on residents, but she sees opportunities to expand its reach. 
"It's something that could be adaptable to curricula for medical students or even attending physicians who are practicing," she said. 
Dr. Chang learned about the Visiting Scholars program by reading The Beam, the ABR's electronic newsletter. She was convinced to give it a shot when she talked with Michael LeCompte, MD, a fellow Johns Hopkins resident who's on the ABR's Radiation Oncology Initial Certification Advisory Committee. Dr. LeCompte was at the ABR headquarters in Tucson this past spring as part of his committee duties. 
"He had visited the ABR and told us about this opportunity," she said. "He was advocating for residents when he went to the ABR. That's what led me to apply." 
Jean Wright, MD, is Dr. Chang's mentor on the project. Dr. Wright, director of the breast cancer program in Johns Hopkins' Department of Radiation Oncology and Molecular Radiation Sciences, believes Dr. Chang's research results will catch on across programs. 
"We expect that this work will lead to a national curriculum for residents across the country," Dr. Wright said. 
Dr. Chang was a late convert to radiation oncology. She learned about the field in medical school at the University of California San Diego. 
"At UCSD, I was able to shadow as a medical student," she said. "During my clinical years, I rotated through basically every oncology specialty because I really wanted to understand the breadth of the field." 
Dr. Chang believes that her specialty isn't as popular as some others because people don't grow up seeing it in the media. Hospital dramas don't regularly feature radiation oncologists. 
"In popular culture, film, or television, there's more of a focus of other specialties like surgery or emergency medicine," she said. "There are ER shows from the '90s that continue to this day. It's important that we have communication with the public about what we do and how important we are within the care of patients and educating them that our treatments are safe." 
Safety is a particularly important factor for radiation oncologists, who work with a cancer care team to put together an effective treatment plan for patients. 
Still, patients can be understandably nervous any time radiation is involved. 
"A lot of times, radiation is painted in a negative light, reasonably so in terms of nuclear accidents or nuclear arms," she said. "But it's also important to understand that these treatments can be lifesaving or really helpful with palliating pain or other symptoms." 
Along with her Visiting Scholar duties, Dr. Chang is searching for a job to start when her residency ends next June. Working with patients will be a critical component as she reviews her options. 
"The most important thing would be really understanding the clinical practice and going to a place where I can treat patients, I feel well supported, and patients are well supported through that process," she said. 
Her mentor believes Dr. Chang will be successful wherever she goes and whatever she does. 
"Leslie is a motivated and insightful resident, and I believe she will become a leader in the field of radiation oncology," Dr. Wright said. "She has a natural interest in and skill for quality initiatives, which she has translated to tremendous impact on our department and, through this project, the field of radiation oncology as a whole."
---
Help spread the word