There are several reasons why Jordan Mackner might not have enrolled in medical school last year:
He was the first member of his family to earn an undergraduate degree.
He was discouraged from pursuing his dream by his college advisor.
He was in his late 30s.
He went through two years of cancer treatment.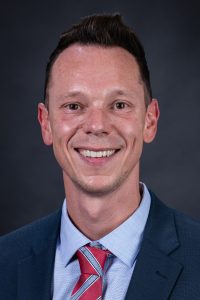 Obstacles slowed but didn't stop Jordan, who's now a first-year medical student at the University of Arizona College of Medicine-Phoenix. At age 38, he appreciates his unconventional route, which included working as a chiropractor in Scottsdale, Arizona, from 2012-'16 and teaching anatomy and physiology courses at the University of Arizona College of Medicine-Phoenix and Grand Canyon University.
"I knew my education and scope of practice were limited," Jordan said. "I worked in interdisciplinary practices and co-managed patients with MDs. I always wished I could be doing what they were doing and know what they knew."  
Getting into the UA College of Medicine was a late call. Jordan found out he had been accepted just a couple of weeks before he was headed to the Midwest for medical school.  
"I thought I was on my way to Chicago because I was accepted to a medical school there," he said. "I was packing my bags thinking I was headed out the door. But they gave me a late call and it made complete sense. My wife works here, we own a home in Phoenix. This is just a better place for us right now in our lives."  
Discouraging bit of advice
There were other factors that temporarily kept Jordan out of medical school. He struggled in pre-med classes as an undergraduate at Concordia College in Minnesota. As a first-generation college student, his transition from high school to higher education was difficult. Both of his parents went to trade schools, so they couldn't provide a perspective on pursuing a post-graduate degree. Instead, Jordan turned to his advisor, who had a PhD in microbiology. 
The answer wasn't what he wanted to hear.  
"He told me, 'Jordan, I don't think this is for you. Your grades aren't that great,'" Jordan said. "That really affected me at that time as a young person and not having much guidance. I was thinking, 'This isn't for me. I probably can't go to medical school.' I look back and think how he could have changed my life if he would have encouraged me."
Finances also played a part in his medical school hesitancy. His dad was an electrician, and his mom was a manager in the radiology department at a local hospital after many years serving as an x-ray technician and mammographer. Their expenses made it impossible for them to defray the costs of Jordan's medical school. They had already invested in his club hockey activities and undergraduate degree.
"I was looking at MCAT books and some of the classes and costs of applying," Jordan said. "It was going to be thousands of dollars. My parents were looking at me saying, 'We have three kids and we bought you all this hockey gear and we got you into college. You do the rest.'"
After earning his bachelor's in 2008, Jordan went on to earn a bachelor's in human life science and doctorate in chiropractic medicine from Logan University in St. Louis in 2011.  
Jordan received chiropractic therapy as a hockey player at Concordia which led him to the field. Additionally, studying chiropractic medicine was cheaper than traditional medical school and enabled him to start a career sooner.  
"The interactions I had with chiropractic and physical therapy providers brought me in that direction," he said. "There was a significant difference in pursuing chiropractic school because of the lack of admissions testing, which saves thousands of dollars on prep courses, books, etc. Additionally, you generally only apply to one or two schools which reduces application cost barrier. It's also cheaper in general because the schooling is shorter."  
Life-changing diagnosis
It was as a chiropractor that he received a medical diagnosis that changed his life. In 2015, he learned that he had testicular cancer.  
The treatment was tough, including chemotherapy because he had lymph node involvement, and the removal of a testicle. After achieving remission, he recommitted to pursuing medical school and a future in radiology.  
"That was the point of my life where I had a lot of time during treatment to think deeply about if I was really happy," he said. "When you think there's a possibility you could die, you start to reevaluate whether you're doing what you've always wanted to do."  
With a cancer-free diagnosis after treatment, Jordan's future became clear. It was time to fulfill his ambition and pursue a medical career, even in his late 30s.   
"I applied to medical school because I realized, in retrospect, that I should have ignored my advisor and that this is what I've always wanted to do. I really should have gone for it," Jordan said. "It's not too late."  
The UA College of Medicine-Phoenix had Jordan and his classmates complete the Medical Specialty Preference Inventory, a 150-question self-assessment that measures interest in activities, tasks, and experiences in medicine. Jordan's results affirmed that he was making the right choice when radiology overwhelmingly came out on top. Anesthesiology, another specialty he considered, was a distant second.  
With a sharper focus and a real opportunity, he's on the way to realizing his dream.  
"I'm going to work hard and make it happen," he said.
---
Help spread the word