Vanderbilt University Medical Center's Diagnostic Radiology Residency Program searches for the best medical-school graduates with an eye on Diversity, Equity, and Inclusion.
Associate Professor of Clinical Radiology & Radiological Sciences and Vice Chair of Diversity Affairs Department of Radiology and Radiological Sciences Marques Bradshaw, MD, has been part of the selection process at Vanderbilt since 2017. The experience gives him a good sense of when a candidate will succeed in the program and beyond.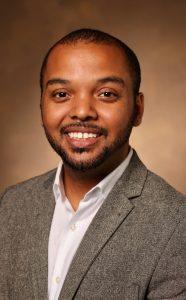 After his first interaction with Cam Henry, MD, Dr. Bradshaw's mind was made: Dr. Henry was going to excel. 
"From the moment I met Cam, it was clear that he had a plan," Dr. Bradshaw said. "I knew he would be successful because he is committed to his craft, constantly seeks feedback for improvement, and searches for opportunities to round out areas of his professional development that needed maturing." 
Dr. Henry earned his bachelor's degree in biology at Stanford and his medical degree from the University of Kentucky. He's in the final months of his residency at Vanderbilt and will start a fellowship in cardiothoracic imaging there in July. 
There are many reasons why Dr. Henry is staying at Vanderbilt for further training, including the partnership the university shares with Meharry Medical College. Meharry is one of the nation's oldest and largest historically Black academic health science centers.  
"I'm able to mentor a lot of underrepresented medical students to come into this field," he said. "The proximity of a world-class institution to a historically Black medical university is a match made in heaven for me." 
Dr. Henry has been actively involved in Vanderbilt's work with Diversity, Equity, and Inclusion. According to Dr. Bradshaw, his efforts extend well beyond Vanderbilt and radiology in general. 
Dr. Henry understands the positive effects of mentorships. For example, it opens the pipeline for more people of color to get into medicine by making it a more common career path, benefitting those specialties and locales. Surveys have shown that only about five percent of radiologists are Black. 
"A lot of African-American households might not know what a radiologist is," he said. "Part of that's because we're not necessarily a forward-facing or clinical-facing specialty. You don't go to a hospital often and say, 'I'm here to see my radiologist.' You say, 'I'm here to see my kidney doc or liver doc.'" 
In medical school, Dr. Henry became involved with the Society of Cardiovascular Computed Tomography, an international professional society with members from approximately 85 countries. His interest in cardiothoracic imaging grew as he worked with other society members. 
That experience and his knowledge of 3D printing, which is used in some cardiothoracic treatments, further convinced him. Dr. Henry already was leaning in that direction; heart disease is the leading cause of death in America. 
"It's easy to find people in any family who have been affected by it," he said. "My brother was recently diagnosed with a bicuspid aortic valve. That is literally close to home." 
Home has been many places for Dr. Henry, who has lived in Chicago, Washington, D.C. (more than once), and San Francisco. Several years into living in Nashville, he recently made a purchase that will help him fit in even better. 
"I feel like I'm an official Nashvillian because I got a hound," he said, showing a photo of his new dog. 
Even before the dog, Dr. Bradshaw thought Dr. Henry, who's also a resident liaison for DEI at Vanderbilt, would stay in Nashville long term. 
"Upon completion of his fellowship, I expect him to be a junior faculty attending at Vanderbilt University Medical Center," Dr. Bradshaw said. "I see him being a leader in the spaces of cardiovascular imaging, 3D printing, and health policy. And I fully expect Cam to take my job as vice chair of diversity and inclusion one day." 
Dr. Henry is taking one step at a time. His fellowship will move him closer to realizing his professional goals, which include helping others follow his path. 
"I would love to be an academic radiologist," he said. "My fellowship will include a clinical instructor role. I've been told that there's not a lot of cardiothoracic imagers. Helping bring more people into that fold would be great." 
---
Help spread the word