By Yasha Gupta, MD
We've all heard the saying: "You miss 100% of the shots (opportunities) you don't take." But what about the opportunities you didn't know you had?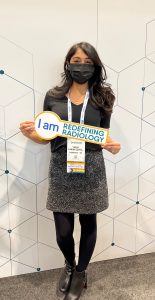 This is where networking comes in. The more hands you shake, the more you are on people's radar. A cold email is OK, but a face-to-face interaction is worth 100 emails. It gives you the opportunity to tell someone your story, share your passions, and talk about your brand.
If you do it consistently, you'll end up with a circle of people who know you and what you're about. When an opportunity arises, you'll jump to the top of their list as someone who could fill the role. Most likely, you wouldn't have heard about the opportunity otherwise.
In return, you have incredible conversations with people who have their own expertise, passions, and brands. This gives you insight into what your career could be. You also have access to potential mentors, sponsors, and educators.
Without networking, you're stuck in your own little circle, and you miss a lot of opportunities, mentorships, and amazing conversations. The connections are priceless.
A lot of this happens on social media, but nothing can replace in-person interactions.
In summary, you miss 100% of the opportunities you didn't know you had.
Author's note: I wrote this networking Tweetorial while at RSNA last week. Over the years, I've received a number of opportunities from people I met at various conferences. What I've learned is that who you know is just as important as, if not more important than, what you know, and conferences are the best time to shake the hands of people who can help shape your future.
Yasha Gupta is a PGY-5/R4 and chief resident at Mount Auburn Hospital. She is also pursuing a medical education fellowship. She serves as the vice chair for the ACR Resident and Fellow Section and will be completing her fellowship in breast imaging at Memorial Sloan Kettering Cancer Center next year.
---
Help spread the word