By Gloria Jang
Medical school and the road ahead present unique challenges. While most people start medical school with a specific trajectory in mind, some, like me, find that the journey winds in a different direction than planned.
Prior to medical school, I was never interested in the gym; I just liked to have a balanced diet and go on strenuous weekend hikes with family and friends. However, at the onset of medical school, my role changed drastically: family illnesses led me to be the caretaker for two, and I needed to get more creative with my exercise outlets.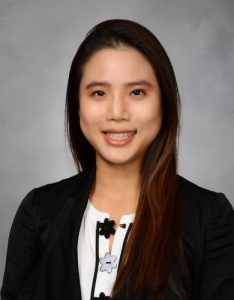 Several friends in medical school were proactively involved with weightlifting and exercising, and they encouraged me to work out. I tried it and loved it. But starting at the gym was tough; I was incredibly sore and discouraged and felt slow and weak. However, I kept showing up and each day, I felt more balanced and refreshed. I grew stronger and gained more endurance, and I found that I was able to work with my hands and arms more easily during medical school labs that involved practicing patient care. Previously, I could barely hold someone's head without shaking. I continued to push myself each morning to wake up and go to the gym, to endure each rep, and to fight through each burn, and I felt more accomplished and relaxed than ever. I felt a layer of stress peel off with every excruciating exercise and personal accomplishment.
I found that pushing through and maintaining a consistent daily gym regimen, especially when it was tougher, helped me to hold on and fight through life when things got challenging. My routine helped me build the habit of trying to peacefully work through more challenging life circumstances, the grind of studying, and supporting my family, friends, and colleagues. I was also inspired by "30-day challenges" and have added my personal blend to them, such as taking cold showers every day for several months or doing my surgery rotations and on-calls for months without caffeine. So far, I have found that pursuing exercise opportunities that are — especially in the moment — more enthralling, challenging, and attention-grabbing than the heaviness of life and responsibilities, has helped me grow, gain perspective, and attain greater inner peace and balance. Choosing what is hard has helped me develop grit.
There is always room for grace, and while I try to start every day with a workout, it does not always happen. Throughout my lectures in pre-clinicals and now with rotations, scheduling has not always been perfect, especially if I'm on-call or sleep deprived from an admission the night before. So I take rest days, power-walk the stairs in the hospital, and do push-ups and sit-ups between practice questions and when studying at home.
Being in medical school is an honor, but it comes with unique challenges. While wellness can look different for everyone, some stressors may be abated with an enjoyable and consistent fitness routine. Pursuing challenges in the realm of physical exercise may provide all-encompassing benefits that radiate throughout our lives.
Gloria is a third-year medical student at Lincoln Memorial University-DeBusk College of Osteopathic Medicine in Knoxville, Tennessee. She grew up in Toronto, Canada, and Northern Virginia and received her bachelor's degree in biology at John Brown University in Siloam Springs, Arkansas. After college, she worked as an ophthalmic technician and scribe, optometric technician, and ESL tutor in Northern Virginia. She is applying for a diagnostic radiology residency in the fall. Outside of medicine, she enjoys cardiovascular activities, strength training, all forms of physical exercise, trying spicy foods, and expanding her 30-day challenges and hobby list. You can find her on Twitter @GloriaJang
---
Help spread the word