By Mary Mahoney
Having known that I wanted to pursue a career in radiation oncology since I was an undergraduate, I am overjoyed to finally be taking the next step in the journey by applying to residency programs in this Match cycle. 
As a longtime Radiation Oncology Virtual Education Rotation (ROVER) participant and active medical Twitter user, I have been fortunate to know about the wealth of virtual meet-and-greet opportunities hosted by residents and faculty from training programs across the country. So much so that I even created and maintained the public Google calendar that compiled the virtual meet-and-greet offerings for radiation oncology residency programs for this Match cycle. These sessions became my research to discover programs that interested me. The sessions often provided a comprehensive overview of the program with ample opportunities to ask questions.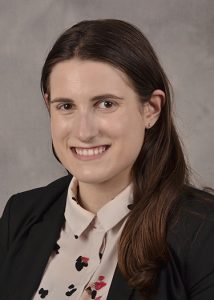 Everyone will be looking for different things from a training program to align with their unique career goals, interests, priorities, and needs. I was interested in:
the location, number, and structure of clinical rotations (apprenticeship model, double pass system);
treatment modalities and technology offered;
the structure of research time and types of research offerings (Holman Pathway support, opportunities for advanced degrees, certificates, global health, and/or industry fellowships);
patient populations served;
job placements of recent alumni (practice type and geographical location);
and benefits, including overall support, financial or otherwise, for various academic, research, and social opportunities during residency.
Thus, I used these meet-and-greets to learn by asking targeted questions.
Preparing for my interview involved reviewing correspondence from the program (emails, ERAS messages, Thalamus, etc.), including invaluable information such as the interview day schedule, virtual interview instructions (web conference links, time zones, and troubleshooting), and paperwork that needed to be returned before the interview. I also reviewed my application package, including my ERAS application, personal statement, and any publications. I did this to ensure that I was equipped to answer any detailed question eloquently. I also did a quick search of my interviewers to see their respective training (undergraduate institution, medical school, graduate school, and residency program) and their clinical/research interests. It gave me the chance to see if there was common ground to discuss during the interview. Many programs also offer a pre-interview social/dinner, which is helpful preparation for the interview. Not only do you get the chance to ask questions about the interview day and address any anxieties, you also get to interact with the residents to gain their perspectives on the program. 
Although interviews can often seem daunting, I found my radiation oncology virtual experiences to be overwhelmingly positive. As applicants, we can lose sight of the fact that the interview is as much about the program trying to propose why they are a good "match" for us as it is us showing why we are a good match for them. Programs invest significant time to giving a detailed overview about their residency program and the department, including pending innovations/changes that may not be reflected on their website.
My interview sessions consisted of a private virtual room with anywhere from one to three faculty and/or residents for 15 to 30 minutes, the "panel" model. Although this seems intimidating, you gain an appreciation for this style quickly as it reduces the number of times you have to answer similar questions and makes the interview day significantly shorter. Additionally, it allows your questions to get answered from multiple perspectives. These interview panel sessions were more of a guided conversation through questions rather than direct-fire "grilling." Again, the purpose of these questions and discussions was to learn if and how the program could be in alignment with my priorities, career goals, and research interests. 
Equally as exciting as finding my "match" through this process was the opportunity to connect with residents, faculty, and applicants from all over the country. Not all of them will be my future colleagues, but some have become mentors, research collaborators, and overall companions. It was also enlightening to speak with some of the great leaders and trailblazers in the field during the interviews. 
This process has been reinvigorating, and I am overjoyed to finally be joining this amazing specialty soon, wherever my "match" may be.  
Mary is a fourth-year medical student at the Norton College of Medicine at SUNY Upstate in Syracuse. She is passionate about medical education and mentorship.  She is a peer-tutor and peer-mentor to undergraduate and medical students as well as an active member of the Radiation Oncology Education Collaborative Study Group (ROECSG). Her hobbies include crafting, science fiction, and Pilates. You can find her on Twitter @MaryMahoney02
 Mary was invited to share her opinions using this forum. Edits by ABR staff were made for style or clarity.
---
Help spread the word