If you're a physician or physicist who's struggling with depression, anxiety, or burnout, you have a friend in Lisa Whitelock, DMP. She has faced and overcome many of her own challenges and is ready to talk.
"I am a very open person," Dr. Whitelock said. "If you ask me direct questions, I will most likely answer them. People know that they can come and talk to me. I like to make myself available, because at times I've experienced depression, anxiety, and imposter syndrome." 
Dr. Whitelock is a diagnostic medical physicist and technical operations manager for Krueger Gilbert Health Physics who works out of her home in Maryland. She believes that medical professionals often take on too much work, setting themselves up for burnout and disappointment.
Again, she knows. She's been there.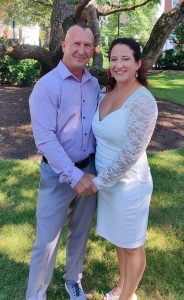 "Sometimes I would say, 'Sure, I can do that. No problem,'" she said. "I really should have been saying, 'Oh my gosh, I am so overwhelmed. I'm exhausted. I need a break.' We need to start paying attention to that more."
Dr. Whitelock understood the importance of therapy as early as her high school years. There wasn't a single incident that led her to seek assistance, and she says she was fortunate to work with a professional without any stigma attached. 
"My parents made sure I got the help I needed," she said. "That support is priceless, and I have continued to see a therapist at various times throughout my life. Therapy has empowered me with the necessary skills to manage these life stressors, and this is a continuous self-improvement process.
Dr. Whitelock said it's important to have a trusted someone or a group of trusted individuals whom you can rely on when stress becomes overwhelming.
"I would say for those of us who have experienced depression, anxiety, and burnout, and overcome those periods, we still at times need a sounding board or neutral party to help us with life's challenges, whether that's our friends, family, colleagues, or a professional," she said.
She also pointed out that some people don't have that kind of network and that's something that needs to be addressed.
"We need to address the stigma that's associated with mental health issues and provide safe, nonjudgmental spaces to get the assistance we need to help us work through our challenges," Dr. Whitelock said. 
While preparing for a recent presentation, Dr. Whitelock found herself struggling to call upon her own network.
"You can still get stuck in your head," she said. "That's why it is important to practice your coping skills and reach out to your trusted network or seek professional help when needed. I know panic attacks can manifest differently for different people. Mine is immobilization and inability to get things done."
Eventually, Dr. Whitelock phoned her husband and talked through the situation.
"At that point, I was able to process through the stress, and my husband helped me come up with an action plan to get the work done," she said.
After staying up late and finishing the presentation, everything went well. Despite the stress of public speaking, presenting at and attending annual meetings and conferences is enjoyable for the self-admitted Type A physicist.
"I get a lot of energy from the conferences," she said. "I enjoy networking and being around people, which for someone like me is good for your mental health." 
An ABR volunteer since January 2022, Dr. Whitelock said she felt comfortable around her accomplished peers during dinner in Tucson earlier this month, the night before she served as an oral examiner for the first time. Being asked to participate made her feel accepted as a trusted representative of her field.  
"I was chatting with some folks, and I said this is the first time I've said out loud that I'm really proud of myself for being invited to do this," she said. "My imposter syndrome's at an all-time low because I'm thinking, 'Wow. I made it. The ABR asked me to be an examiner.'"  
Most important to Dr. Whitelock is knowing when she needs help. Through her therapy and discussions with family, friends, and colleagues, she has found that talking things out is the best way for her to cope with her stressors. It's why she's made that open invitation to anyone who's struggling.  
"I'm available to talk," she said. "I've been in your shoes. I've struggled with grad-school work. I've struggled in my profession. Being able to say those things out loud and have a safe space to say them is very important."
Dr. Whitelock invites anyone to connect with her on Twitter.
---
Help spread the word