The first member of her family to attend college in her native Brazil, Clara Ferreira had big dreams of pursuing a medical physics degree in the United States. 
Those dreams came true – she's now an associate professor and medical physicist at the University of Minnesota Department of Radiation Oncology. With her STEM background, Dr. Ferreira was able to keep renewing her student and work visa privileges. But it still took 15 years for her to become a naturalized citizen, a process she completed in mid-July. 
Despite bouts of homesickness and the challenges of getting accustomed to a different language and culture, she persevered. 
"I've always been very hardworking and very competitive, too," she said. "I was confident that if I worked hard enough and did everything that I could do, I would succeed in accomplishing my goal, which was to continue to contribute to radiation oncology and cancer research. 
"There is nowhere else in the world with such endless opportunities to grow in your field as the United States of America." 
Her Journey Started in North Carolina
After earning undergraduate and graduate degrees in Brazil, Dr. Ferreira chose East Carolina University (ECU) to pursue her doctorate in 2008. She was led there by an ECU faculty member who saw her presenting research on DNA interactions with chemotherapeutic drugs at a conference in Brazil and suggested that she apply to the university in Greenville, North Carolina.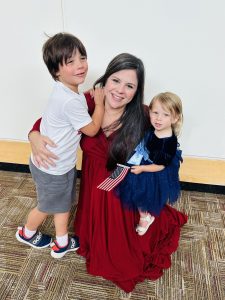 Once she was accepted, the real work began. 
"It was very stressful," Dr. Ferreira said. "After two months, I wanted to go back home. But I had made friends. The PhD program was full of international people."
One friend from Algeria urged her to hang in for at least six months and not think about the total time she would need to stay in the program. That one-day-at-a-time approach helped Dr. Ferreira cope. 
"He helped me persist and stay," said Dr. Ferreira, who was in the country on a student visa. "I was the first one in my family to leave the country. It was really hard not being able to have my family, friends, and everything that I knew." 
Dr. Ferreira completed her doctoral studies and spent a year as a clinical instructor at the Brody School of Medicine at ECU and then went on to perform a residency at the University of Oklahoma Health Sciences Center. 
The university applied for her H-1B visa, which enables immigrants to practice in a highly specialized field of knowledge. The duration of stay is three years, extendable to six years, after which the visa holder can reapply. H-1B holders are allowed to not be working for only short periods of time.
Many immigrants who apply aren't granted the visa. It helped Dr. Ferreira that the University of Oklahoma aided in the process, setting her up to eventually try for her Green Card through a National Interest Waiver, which is given to applicants with advanced degrees, the foreign equivalent, or an exceptional ability in their field. 
Applying for a Green Card took more than six months of nights and weekends gathering proof of publications, professional memberships, and letters of recommendation from people in the field who were familiar with her only through her research. 
"Once I applied, it took more than a year to become a permanent resident," Dr. Ferreira said. "As a permanent resident, you are eligible for naturalization after five years if you have followed all the requirements, including living in the U.S. for more than six months per year over five years, having lawful conduct, and being able to pass the English test as well as the history and government test." 
Finishing Residency One Day, On the Job the Next
After completing her residency, she started the following day as a medical physicist at the University of Minnesota in 2016. Being employed is vital in the life of an immigrant who wants to become a naturalized citizen. 
"You always have to watch those things in parallel with your life," she said of the laws associated with keeping immigration status. "I was working in the clinic, publishing my research findings, and advising graduate students."
Dr. Ferreira and her spouse have two children and she's due to have another next month. She's happy to have the stress of seeking citizenship behind her and pleased that her family can settle in Minneapolis. 
"After such a stressful process of immigration, it is a relief to be a citizen," she said. "My children were born in the U.S. and have been citizens since birth. It is comforting to have the same citizenship as them and to know that we do not have to go anywhere else, and this is our home now."
---
Help spread the word