By Grace Eliason, MS
Most people have a tough time choosing what to wear to work — skirt or slacks, short sleeves or long, dress shoes or tennis shoes? Every morning, I look in the mirror and think, "Should I have two arms today?"
I am a medical physicist, and I only have one arm. More specifically, I am missing my left hand and forearm. When I was three years old, I was in a lawn mower accident which resulted in a transradial amputation. I was young and pliable when it happened, so while learning how to interact with the world for the first time, I adopted procedures that worked best for me. By the time I was fitted for a prosthetic arm, I was resistant, as they were uncomfortable and did not improve my overall function. Wearing an arm as a child was like playing an instrument: you only got use out of it if you practiced.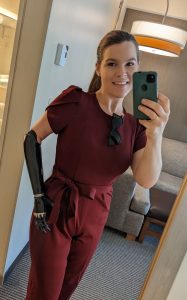 It was only when I broke my right wrist during residency that I re-considered using a prosthesis. I was fortunate to have a supportive partner and physics team that accommodated my temporary loss of both my upper extremities, but, as a strong-willed individual, I could not risk feeling helpless like that again. Within a month of my wrist reconstruction surgery, I made an appointment with a prosthetist. The arm we created is a myoelectrically controlled hand prosthesis with a carbon fiber forearm. Going through the process as an adult gave me more agency in the design and function, making me much more motivated to wear it.
Choosing when to wear my prosthesis has become a complex matrix of function, comfort, and schedule. Every morning, I ask myself: What will I be doing today? For how long would I be wearing my arm? Will I be in an environment where I can remove it if it becomes uncomfortable? The musical instrument analogy still stands — I suffer from a lack of practice and still need occupational therapy for my new arm. Moreover, I have spent my life not using it, so many of my processes would have to be adjusted accordingly. Lastly, wearing it for extended periods (especially in hot weather) leaves me in extreme discomfort. So, I wear my arm in limited settings, hope to wear it more soon, but may never wear it for certain activities. It is a personal choice that is difficult to describe, but I know my capabilities and will do what I need to succeed.
I have never considered myself disabled, but instead visibly different than most people, especially when I am not wearing my arm. Because of this and the fact that I do not need accommodations, accessibility has not always been at the forefront of my mind. In fact, I know very little about accommodations and the disabled community. Only recently did I join the AAPM Accessibility Subcommittee as a guest member to educate myself and, hopefully, contribute as someone who is perceived as having a disability. I am still learning about what "disability" and "accessibility" mean to me and how I can do better by others.
This is not meant to be an inspirational story; I am a normal person playing with the cards I have been dealt. I am a medical physicist, trivia fanatic, doting dog-parent, and painfully average person before I am an amputee. If you take anything away from this, just remember that a person's outward appearance is not indicative of their abilities, and that, every once in a while, you just gotta relax and take your arm off.
Grace Eliason, MS, is an assistant professor and clinical imaging physicist at the University of Colorado School of Medicine in Aurora, Colorado, where she specializes in interventional radiology. She recently completed her residency training in diagnostic imaging physics at Oregon Health & Science University and plans to take Part 2 of the ABR Medical Physics Exam in August. Her research interests include skin dose estimation for fluoroscopically guided interventions and Y-90 radioembolization dosimetry. She was invited to share her opinions on the subject using this forum. Edits by ABR staff were made for style or clarity.
---
Help spread the word