By Nupur Verma, MD
Are you a "prepper"? This does not have to mean "Do you have a stockpile of cans and dry goods?" By the nature of your reading this blog, you are a "prepper" for academic hurdles, the successful clearance of which has paid dividends of educational and professional success for you. Reflecting on your ability to prep and execute is an important part of successfully planning your future.
Most of us have heard Benjamin Franklin quoted as saying, "If you fail to plan, you are planning to fail!" Residency and faculty life have multiple areas where this planning is important to garner success and avoid failure. One of the stepping stones of your professional success that requires planning is meeting credentialing requirements, including passing any required board certification exams. Planning for these board exams is different for each of us, but some points apply to all "preppers."
Know the rules. Understand your board certification path and its timeline. It is important for each candidate to understand the timing of exams, Maintenance of Certification deadlines, and any future anticipated changes. Utilize the American Board of Radiology (ABR) website to stay up to date, talk with your cohort of radiologists on the same/similar timeline to share information, and know your eligibility and progress status. If you have a question about a step, or special circumstances, reach out to your program director, chair, or to the helpful ABR certification services team early so adjustments can be planned and documented in writing.

Manage your time. The initial certification process extends from your residency into your first year as an attending radiologist. The latter is a very busy time in your career where you transition from training to independent service, which could also include academic responsibilities. This is without even mentioning our busy personal lives! From reflection on your experiences, know how much time you need for study and what works best for you and your family. I have seen people successfully manage a spring wedding, or birth of a newborn a month before the Core Exam. Whereas many need compassionate understanding and freedom from family weekend responsibilities. There is no correct way to approach allocating time, or proper answer as to "How much?". It is important to know what you need from your past experiences, and what commitments you can realistically manage, to help you have time to put effort toward your success.

Be smart about available preparation resources. The best preparation comes from your residency program. Take advantage of conferences, lectures, and teaching at the workstation. There are also are sources of review material in addition to the board exam study guides and sample questions. Resources include online preparation courses, workshops, and books. Before you dig into a source, do some marketing surveillance, read reviews, check social media, and inquire with senior peers for their feedback. This investment is also very personal, and you have to consider the costs associated with resources in terms of both money and educational time, and recognize whether you are someone who is more self-directed or needs a classroom environment to be encouraged.

Be honest with yourself. In all domains of life, I am aware of areas in which I am proficient, and other areas where I am not. The latter is often because I do not have an interest in it. Reflect on how this applies to your educational experience. For example, it is the trainee who avoids attending neuroradiology case conferences who is most likely to feel lost in that subject. This honesty with oneself adds to your "prepper" plan. You can then add extra rotations or reading material, exposure to case teaching files, and seek experienced colleagues with whom to discuss cases well in advance of the exam time. If you are in a training program, reflecting on this ahead of time also allows you to request extra block rotations in an area of weakness.
I hope that you have found these tips helpful in planning your effort. There are many facets of our professional lives that require planning and you, as a "prepper," are up for the challenge. I look forward to all of your future success!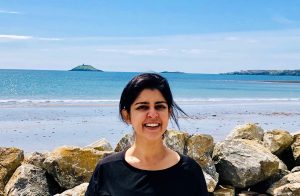 Nupur Verma, MD, is an Associate Professor and Program Director of the Diagnostic Radiology Residency at University of Florida in Gainesville. She completed her emergency and trauma radiology fellowship at University of Washington, Harborview Medical Center, in Seattle. Her clinical interests are in trauma and emergency radiology, and pulmonary imaging.
---
Help spread the word