A graduate of the Air Force Academy and Harvard Medical School, Rob Smalley, MD, knows what it takes to succeed. He further proved that when he passed the ABR Diagnostic Radiology Qualifying (Core) Exam last May.
Dr. Smalley, who's in a diagnostic radiology residency at Naval Medical Center Portsmouth and will start a pediatric radiology fellowship at Boston Children's Hospital this summer, said he believed his program prepared him well for the qualifying exam.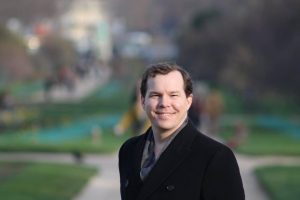 "I feel like our faculty and my residency program explicitly link what's being tested by the ABR to what's being taught during the year," he said. 
Dr. Smalley said several colleagues who had taken and passed the exam agreed that it was a good representation of the knowledge they should have gained in three years of training.
"Leading up to the exam, I was told that the ABR was trying to make sure that I had trained in a robust program in which I was very involved in the actual practice of radiology," he said. "I was surprised by how true that was." 
Being ready also involves prep work before the exam. As the ABR advises, Dr. Smalley took time before the exam to complete the exam readiness check to ensure that his internet connection and computer were in working order. 
"Leading up to the exam, I tested all my equipment multiple times on the WiFi I was going to be using on exam day," he said. "I felt reasonably confident that it was going to go well, but I was still nervous about the IT component. I wasn't as nervous about the actual knowledge. I felt like I had gotten good training." 
As prepared as he was, Dr. Smalley encountered a few connectivity problems during the three-day exam. He kept the Exam Day Help Desk flyer nearby and connected with ABR personnel to clear up issues. Candidates who need to contact the help desk have that time added back to their exam time.
"They were very responsive and got me right back online," he said. "The first time I got locked out, I thought, 'Oh, no, this is exactly what I hoped wasn't going to happen.' But the resolution process was swift, and I was able to calm myself down and get back into a groove." 
Although he was confident he had passed, Dr. Smalley said the wait to get his result allowed his mind to wander. There are many reasons why the ABR takes a few weeks to score computer-based exams.  
"If I were going to place a bet, I would've said, 'OK, I think I passed,' " he said. "But most of my thought process leading up to getting my score was if the worst happened and I didn't pass, then these are the actions I would take, and this is the timeline. It would be bad, but it wouldn't be the end of the world." 
Fortunately, Dr. Smalley didn't have to put his backup plan into action. He now only needs to pass the Certifying Exam after he completes his residency. 
"It was a great relief to get that portion of the mental load off my plate and know that I'm studying solely to be a good practicing radiologist," he said.
---
Help spread the word