By Andrew Castagna
Growing up, I showed interest in technology. Whether it was researching the most up-to-date electronic devices, rewiring computers, or helping my friends and family brainstorm anything technology-related, I was the go-to person. I also knew that I loved medicine, improving the lives of people around me, and contributing to the health of my community. The anatomy, physiology, pathology, and intricacy of understanding disease was fascinating.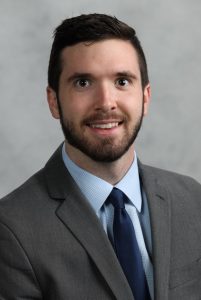 As I began my third year of medical school, I was still unsure about what field of medicine would be the right fit for me. I had been exposed to a few interesting radiology lectures during my first and second year of medical school but never had direct exposure to the daily routine of a radiologist.
Whenever I brought up the idea of radiology to a peer, they pictured an isolated physician in a dark room reading radiographs. Because I'm an optimist and because I observed how integral radiology was in disease diagnosis and management during third-year clerkships, I decided to see for myself and rotate with a radiologist. After my first few days of the rotation, it felt like a bright light in my head turned on; radiology is the perfect integration of medicine and technology, two of my passions. The cerebral nature of the field and the fact that it relies on the world's finest resolution computers and imaging software led me to think this is the best field in medicine. I additionally observed that having a detailed-oriented, technologic background is very advantageous and efficient when it comes to reading radiographic images. More importantly though, it helped solidify my decision that radiology is a great fit for me.
The summer after my first year of medical school, I had the opportunity to take an elective ultrasound course. The course focused on the basics of identifying anatomy via ultrasound and performing different scanning techniques. I was captivated by the underlying technology of ultrasound and how much improvement there has been with this imaging modality in the last decade. In my third-year radiology rotation, I learned that ultrasonography is another important technologic modality frequently used by radiologists, whether they are reading ultrasound reports or using it for guidance during procedures such as biopsies, thoracentesis, and paracentesis. This experience further confirmed the link between radiology and technology.
Radiology is unique because it integrates medicine and technology like no other medical field. At the same time, advancement in high-quality patient care relies on continued technological developments. New technology translates into more efficient, reliable imaging studies for patients, which can result in better treatment and outcomes. Furthermore, cloud-based technology allows for continuity of care in which physicians access radiographic images from healthcare systems all over the world. These integrative systems provide an attractive environment for medical students who are technologically oriented. Because of the interdependence of radiology and technology, the field of radiology will benefit immensely from a prospective wave of more efficient and tech-savvy radiologists.
Andrew Castagna is a fourth-year medical student at West Virginia School of Osteopathic Medicine. He grew up in Lancaster, Penn. and received his bachelor's degree in neuroscience at Temple University. After college, he worked as a scribe at Temple University Hospital and as a cardiac monitoring tech at Penn Medicine – Lancaster General Health. He is applying for a diagnostic radiology residency in the fall. Outside of medicine, he is an avid Philadelphia sports fan and enjoys golfing, fishing, cooking, and hanging out with friends and family. You can follow him on Twitter @acastagna2.
Andrew was invited to share his opinions using this forum. Edits by ABR staff were made for style or clarity.
---
Help spread the word