For the past three years, David Larson, MD, MBA, has filled two important volunteer roles. As an ABR trustee and American College of Radiology (ACR) Board of Chancellors (BOC) member, Dr. Larson is using much of his "free time" to help his specialty.
"A lot of nights, weekends, and vacation time are spent doing this," he said. "The fun thing is that my colleagues on both boards are extraordinarily dedicated and wonderful to work with. Everyone is in it for the right reasons."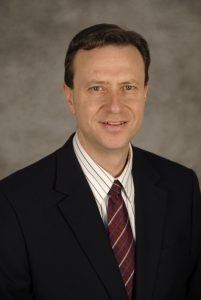 ABR trustees advance the quality, relevance, and effectiveness of exams for initial and continuing certification. They make operational decisions about exam goals, format, content, assembly, delivery, scoring, and feedback. The ACR Quality and Safety Commission Chair oversees programs and activities to accomplish ACR policy goals and quality and safety initiatives through commissions, committees, and special task forces.
Dr. Larson leads 12 committees as chair of the ACR Commission on Quality and Safety. He was appointed to the position in 2020.
"Quality and Safety has the largest portfolio of all of the commissions in the college," he said. "It's a humbling responsibility, as the commission is entrusted with supporting a number of important programs at the core of the college's mission."
Among other efforts, the Commission on Qualify and Safety, in conjunction with the ACR Data Science Institute, is keeping close watch on the evolving impact of artificial intelligence. Part of its role is to ensure that tasks being performed or managed by AI meet quality and safety standards.
Managing AI is oversight of oversight.
"We're working to address challenges of implementation," Dr. Larson said. "As technology is advancing, there's increasing opportunity for AI augmentation of all types of expertise and knowledge to be embedded into our systems, but there are risks as well."
Quality and Safety are His Specialty
Imaging-based population health management is also a rapidly evolving area that is being addressed within the ACR Quality and Safety Commission. For example, when a patient visits the emergency department and receives a chest CT to evaluate for a potential pulmonary embolism and the team finds something else concerning, like an unexpected pulmonary nodule, what are the appropriate next steps? The ACR Incidental Findings Committee, led by Stella Kang, MD, from NYU Langone Health, is grappling with just that type of issue.
In his position, he is supported by two vice chairs, whom he describes as "incredibly bright, hard-working, and visionary." Matt Davenport, MD, from the University of Michigan, is leading a new Reporting and Data System (RADS) steering committee to help align and support the various ACR-supported RADS programs, including BI-RADS (breast imaging), LI-RADS (liver imaging), PI-RADS (prostate imaging), etc. Jennifer Broder, MD, from the Lahey Clinic leads the recently established peer learning committee, which facilitates local radiology practices' transition from score-based peer review to an approach based on feedback and colleague-to-colleague learning.
"Each committee chair is a world expert in their respective field," Dr. Larson said. "They, in turn, are supported by other world experts who serve as volunteer committee members. My main job is to help them be successful and try not to get in their way."
Another benefit of volunteering for the two organizations that Dr. Larson enjoys is working with staff.
"The staff of both organizations are incredible," he said. "Not only are they highly capable at doing their job, they are experts at working around the schedules of busy physician volunteers in a friendly way that makes it look easy."
Dr. Larson is a professor of pediatric radiology and senior vice chair of the department at Stanford University. He's also associate chief quality officer for improvement for Stanford Health Care and physician co-leader of the Stanford Medicine Center for Improvement.
His day jobs do more than give him the chance to volunteer. They also qualify him to fill important roles for a large medical board and prominent radiology society.
"In some ways, working at a large academic medical center like Stanford is not that dissimilar to working as a trustee or as member of the Board of Chancellors," he said. "Our job is to try to provide high-level vision and get the right people in place and then help them get supported. It is that balance of providing guidance and facilitation without getting too far in the weeds."
ABR, ACR Connections
Dr. Larson appreciates the partnerships he has built as a volunteer for both the ABR and ACR. Many of his fellow ABR board members are also highly engaged in the ACR.
"It is a privilege to be able to develop relationships with the national leaders in radiology who make up each of the two boards," he said.
Those relationships allow him and his colleagues to make contributions to both organizations while improving their professional work. It also gives him a unique perspective on how the two operate and fulfill distinct roles. One commonality is that quality and safety are vital to both.
"I really appreciate that the ABR recognizes that quality and safety are key components of the radiology curriculum and are incorporated into the board exams," he said.
Dr. Larson finds that his volunteer hours are well worth the effort. He especially believes in the importance of giving back to his specialty.
"It's a labor of love," he said. "It's one of the major reasons why we enter the field and why we choose radiology practices that support us in this work — to be able to pay it forward."
---
Help spread the word