By Hala Mazin, DO
This is already shaping up to be a very exciting year. Taylor Swift started her Eras Tour, Prince Charles III finally became king after waiting for what seemed like 200 years, Tom Sandoval from "Vanderpump Rules" will be the first reality TV star nominated for an Oscar, Jeff Bezos proposed to his girlfriend with a 20-carat ring the size of my apartment, and Dr. Hala Mazin is finally going to practice medicine unsupervised! Is this real life? 
They say time flies when you're having fun. But how about after four years of college, four years of medical school, an intern year, four years of radiology residency, and a one-year breast fellowship? For those of you who hate math, that's 14 years of not being in control of my whereabouts. I also need to pass one more ABR exam. Despite all this, I can attest, the years didn't just fly by, they soared at the speed of x-rays (pun totally intended).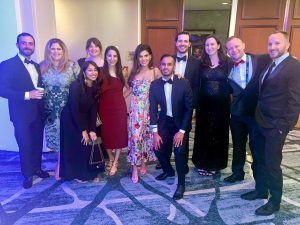 For the last 10 years in training, I have been treated like an adult baby, given just enough responsibility to make me feel guilty if things didn't go as planned, yet never allowed to make the final decision or take credit when things went great. Most days ended with me coming home, throwing my backpack in my closet, taking a deep breath, and saying to myself, "I can't wait to be an attending!" I watched my friends in other fields graduate and start their new lives, while I was still sitting in the same old reading chair. I could not wait to get out of there and finally be autonomous. So, why now, when it's weeks away, do I want time to freeze? 
Don't get me wrong. I am relieved and ready for this next chapter of my life (and to soon be able to afford to replace my 2009 CD-player-equipped Toyota Corolla). But I am also simultaneously exhausted, nervous, and terrified. What's going to happen if I see something that I've never seen? Will I be calling every little calcification breast cancer? Did my residency and fellowship provide me with enough skills to practice on my own? Are they sure they want to graduate me already? Suddenly the idea of my own license being on the line doesn't seem so liberating, and all I want to do is hide behind my attending.  
I know I'm not alone in these feelings. So, how do those of us who are about to graduate snap out of this state of anxiety and regain our enthusiasm? 
For me, I take solace in knowing that my years in training also meant the addition of a wonderful network of radiology mentors, colleagues, and friends from all over the nation. I know I can ask for help, past my graduation date, from some of the best in the field and be met with nonjudgmental open arms. I also try to remind myself that not a single physician out there is perfect. Not even that crazy smart neuroradiology attending who has been reading MRIs since the Stone Age.  
We didn't get here by accident. After all, this took years (and for some of us a few extra pounds), but who's counting? We need to go out there with confidence and trust our training! We deserve this! We will make mistakes, we will need help at times, and we will never stop growing. But if all else fails, blame it on the most senior attending in your group. Chances are, they can afford it.
Dr. Mazin is a radiology fellow at The University of Texas, MD Anderson Cancer Center. Her areas of expertise include breast imaging and nuclear medicine. She will be joining Radiology Associates of North Texas on August 14. When she's not working or battling graduation anxiety, you can find her daydreaming about her future life in Dallas with her wonderful new patients and blasting Stevie Nicks in her new car, which will hopefully play through Bluetooth.
---
Help spread the word