Brooke Burkins, MS, recently earned the Arnold P. Gold Foundation's Gold Humanism Honor Society Award. This peer-nominated award is given to someone who is humanistic, compassionate, and an advocate for people facing diverse barriers in healthcare. Medical students, residents, and physician leaders are inducted into this honor society to serve as role models for the human connection in healthcare.
Ms. Burkins is a fourth-year medical student at Edward Via College of Osteopathic Medicine – Carolinas. She earned her undergraduate degree at the University of Florida and her master's at the University of South Florida Morsani College of Medicine. She's applying to match to a diagnostic radiology residency.


She recently took a few minutes to answer questions about the honor. She can be found on Twitter: @brookeburkins.
How did you find out that you won and what was your reaction?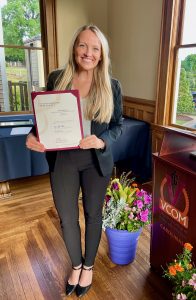 "I received an email from my institution that I was nominated and selected for the Gold Humanism Honor Society Award. To be honest, I was rather humbled and surprised. I knew this award represents the values of being a trusted, compassionate, and altruistic human and physician. I am grateful and honored that my peers considered me a leader, a role model, and someone they would trust to treat their families. 'Treat others the way you want to be treated' is a motto I inherited from a mentor. I honor this statement through all of my interactions with patients, colleagues, friends, and family. I've found that spending an extra five minutes explaining the diagnosis or treatment plan, or calling a family member for an update can exponentially enhance a trusting relationship with a patient. However, through the constant bustle in medical school, I did not realize these actions were noticed. I believe it is invaluable to create humanistic relationships with those around you, and I attribute my successful and fulfilling career to these quality relationships."
What does an award like this mean to you?                                           
"This award represents the village supporting me while addressing barriers in medicine to providing wholesome, quality, and compassionate care to patients. There is a glowing reassurance that comes with knowing that others recognize, appreciate, and support your kindness and efforts in treating people humanistically. Research proves better outcomes through humanistic behaviors although, in today's fast-paced medical climate, being empathetic, caring, and patient sometimes seem to be underemphasized. The Gold Humanism Honor Society will allow me to shed light on how these core values influence healthcare. I have a life of continuous learning, change, and challenges ahead. I am eager to address, comfort, and promote patient needs alongside a society to create a holistic medical community. First on the agenda after being inducted into the society is to collaborate with my Gold Humanism classmates on a service project to address. Last year's inductees endorsed a week-long campaign against racism and bias faced in medicine."
Why is it so important to include a humanistic approach to medicine, especially during a pandemic?
"Working in medicine allows you to interact with and treat people from varying backgrounds. Appreciating a person's whole situation is a large factor in treating them. We have seen the trauma, discomfort, and burdens that the pandemic has placed on our patients. Now, more than ever, it is time to slow down and process all aspects of a person's challenges and strengths and how this affects their healthcare. Whether that be recognizing affordable medications, employment or living situations, other people they are caring for, or grieving dear loved ones they've lost, one must always remember that we are catching only the smallest glimpse into the much bigger story that is playing out in our patients' lives. I think experiencing the pandemic as a medical student has influenced how I'll practice as a physician. This year has presented numerous hurdles, but what has evolved is an underlying theme of comradery within medicine and our patients. Restrictions put in place to protect and prevent the spread of disease have also led to patients being isolated from their families and information being more difficult to obtain about a loved one. They have also made it difficult for families to simply be present with one another. It is up to the medical providers to maintain a human touch. Comforting families outside of the ICU about their loved ones' COVID status and maintaining optimism in the midst of exhaustion and gloom absolutely reminded me of the role of humanism in medicine. Having a humanistic approach not only fosters a more trusting relationship with your patients and colleagues, but also improves outcomes in patients. Our world has experienced tragedy in all forms from the pandemic. Having healthcare at the forefront of healing and humanism is largely what the world needs right now."
What are your biggest goals in the next few years?
"I am applying to a diagnostic radiology residency this upcoming match cycle. My biggest goal is to match in a place where I can grow and become the best version of myself. My goals in residency and practice are to promote women in the field of radiology and to address treatment awareness and healthcare disparities of women in radiology. I am currently serving on committees to address these topics with the American Association for Women Radiologists and the Society of Interventional Radiology. After residency, I plan to contribute to medical education and guide students pursuing a medical career. I can't thank my mentors enough for assisting me through the rigors of medical school. A little bit of support from a kind leader goes a long way."
---
Help spread the word