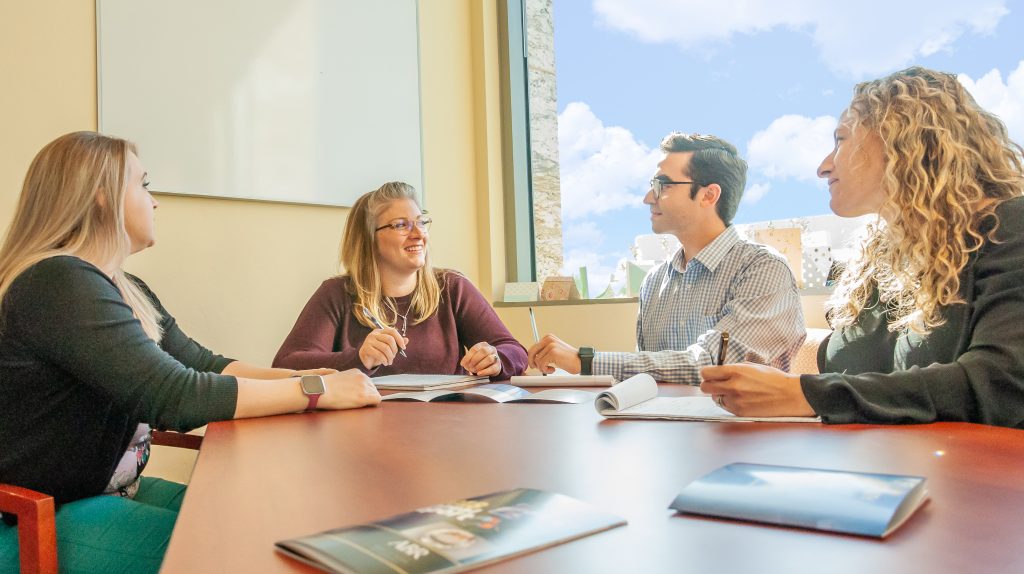 Certification Services Department members Rachael Noble, Kristin Gudenkauf, Kyle Dignoti, and Tara Kaminsky.
The ABR employees who spend the most time helping candidates and diplomates be successful in each phase of certification are the four members of our certification services division (CSD). Their mission is to expand their role as trusted advisors and partners with members of the diagnostic radiology, interventional radiology, medical physics, and radiation oncology communities.
Led by Associate Director Kristin Gudenkauf, CSD answers phone calls and emails from diplomates participating in Maintenance of Certification (MOC) and candidates who are eligible for board certification. Each phone call takes 8 to 10 minutes. There are more than 30,000 people participating in MOC and approximately 9,000 candidates in the initial certification process.
The team is also proactive in its communications, often sensing diplomate and candidate needs before they arise regarding exams, timelines, and MOC. One of its goals is to continue expanding electronic communications to ABR constituents and personally speak with each of them at least once a year.
"We have been able to address questions quickly and have begun various outreach projects that will help us better engage with those we serve," Gudenkauf said.
Gudenkauf, who started her position not long before she had her first child this past spring, and Certification Manager Rachael Noble are the most experienced members of the team. Gudenkauf has served in several roles during her eight years with the ABR, most recently as a project manager. Noble has been with the ABR since 2012.
Certification Managers Kyle Dignoti and Tara Kaminsky joined the team this year and have quickly picked up the detailed subject matter. Dignoti worked for a nonprofit before coming to the ABR and Kaminsky was with St. Jude Children's Research Hospital in Memphis.
"Broadening my professional skills in an organization with an exceptional reputation was appealing," Dignoti said. "The focused work and commitment to excellence drew me to the ABR."
Kaminsky said, "I spent a lot of time working in Continuing Medical Education and there is a lot of similarity and overlap with the positions. There was a bit of familiarity but new challenges with this opportunity as well."
Noble played a key role in training Dignoti and Kaminsky and is impressed with what quick studies they have been.
"Kyle and Tara have both picked up the information so easily and quickly, which is impressive given how much there is to learn about the different pathways and disciplines," she said.
Gudenkauf runs a collaborative department, taking staff opinion into account when determining direction. Each of her three employees has strengths and unique traits. Gudenkauf credits Dignoti for his unwavering kindness, Kaminsky for her humility, and Noble for her determination.
"They are all unique," she said, "but they all have a passion for what we do, as highlighted by their dedication to truly becoming partners with our constituents."
With more than 18,700 diplomates already participating in Online Longitudinal Assessment (OLA) and another 10,000 starting in January, many inquiries the team receives and correspondence it sends involve OLA. Kaminsky said most of the calls she has taken about the assessment have been positive. OLA came about because diplomates sought an alternative to the 10-year MOC exam.
"They are finding the questions to be incredibly helpful in their practice and quite rewarding," Kaminsky said. "We always love receiving feedback from our diplomates."
Getting feedback is one goal of the CSD team. Another is sharing information that helps a candidate or diplomate solve an issue, which is sometimes a team effort with assistance provided by staff outside the department.
"The most fulfilling part of the job is finding resolution to a candidate's or diplomate's question or concern," Dignoti said. "Staff members support one another to better the service we provide, and that produces a feeling of great satisfaction."
Working together is key to CSD's mission. Noble enjoys being part of the division's strong camaraderie, a bond that enables the team to better partner with its constituents.
"I appreciate everyone on this team so much," Noble said. "I enjoy coming here every day to work with them."
Get in touch with our Certification Services team at information@theabr.org or (520) 790-2900.
---
Help spread the word