By Stephen E. Simoneaux, MD
At a recent ABR Board meeting, the Imaging Task Force met to review the process for image acquisition and display for all the ABR exam formats. Given the commitment to providing the highest quality images for candidates and diplomates, staff and Board members met to discuss the current processes used in this effort. This included representatives from each certificate area: diagnostic radiology, interventional radiology, radiation oncology, and medical physics.
The Task Force began by discussing the initial steps that item-writing volunteers use to capture images from the PACS they are using. The various levels of security institutions have implemented, to protect data from being misused, have contributed to the difficulty in getting images for exams. Exclusion of Protected Health Information remains an important focus, and a challenge with some exam types. The myriad of imaging formats from .jpgs to .pngs can also add complexity to the process. The group developed a standard set of instructions, representing the optimal way to obtain images needed for exams, with options to fit most volunteers' work environments.
Other topics discussed were image display sizes for the exam software systems, and file compression techniques. Displays of graphs, charts, and other non-patient images were highlighted by the medical physics representatives. Image retention and storage become even more important as our question bank is housing images that are years old.
Image quality will always be of vital importance to the ABR. Candidates and diplomates should expect only the highest quality images in the exams they take. This Task Force is committed to strengthening this mandate now, and ensuring its continuation for years to come.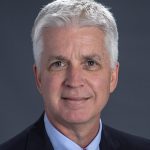 Stephen Simoneaux, MD, FACR is a Professor of Radiology and Pediatrics at Emory University School of Medicine in Atlanta, and Chief of Radiology at Children's Healthcare of Atlanta. He completed his pediatric radiology fellowship at Emory University and diagnostic radiology residency at the University of Miami. He is a long-time ABR volunteer and the trustee for pediatric radiology.
---
Help spread the word