(Note: This blog was written before the start of the COVID-19 pandemic.)
Nearing age 80, Frank Quattromani, MD, works full time and maintains his certification. Even with decades in the field, the pediatric radiologist sees advantages to participating in the ABR's Maintenance of Certification (MOC) program.
"I feel that maintaining certification keeps me young," he said.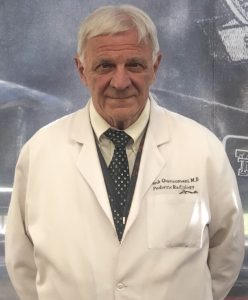 Dr. Quattromani earned his general radiology certification in 1973; he's also subspecialty certified in pediatric radiology. He works at University Medical Center, the primary teaching hospital for the Texas Tech University Health Sciences Center.
During his 25 years in the Army as the radiology consultant to the Office of the United States Army Surgeon General, Dr. Quattromani helped coordinate residency training programs at Army hospitals in California, Colorado, Hawaii, Texas, and Washington, as well as Walter Reed Hospital in Washington, D.C.
"I enjoy every minute working with young radiology residents," Dr. Quattromani said. "Teaching young students is an honor and a pleasure."
He's also a fan of Online Longitudinal Assessment (OLA), the continuous way to satisfy Part 3 of MOC. He started participating in OLA last year when it was introduced to those with DR and DR subspecialty certification.
"I like the concept a lot," Dr. Quattromani said. "I can't wait for every Monday morning when I see the next two cases. I hate when I miss one, but I learn."
Questions are written and vetted by medical professionals who volunteer their time with the ABR. These men and women have varied experiences that bring unique perspectives to their work.
"I just got a case of (focal periphyseal edema) that I had never heard of and the next day, I saw something like it in morning rounds," he said.
Even with a significant birthday coming later this year, Dr. Quattromani has no plans of slowing down. He's one of 98 diplomates aged 75 to 80 participating in MOC.
"I plan to continue with MOC until I can no longer turn on the computer; then I will find someone who can turn it on for me," he said. "I find OLA fun and challenging. I would like to someday be the oldest MOC-certified pediatric radiologist in the country. Young and old, we all need goals."
---
Help spread the word