Ameer Elaimy, MD, PhD, has a productive way to destress after a long day of clinical work: He goes to a custom gym in the basement of his house and trains as a powerlifter.
"After high school sports, I just wanted something to keep me going," said Dr. Elaimy, a PGY-3 radiation oncology resident at the University of Michigan. "It's been great in terms of overall well-being, especially in oncology where you need to have some way to wind down to get your mind off the day-to-day challenges that come from caring for cancer patients."
Clearly not one to sit on the couch and catch up on Netflix, Dr. Elaimy has seen impressive results from his training, including setting several state records. This summer, he placed 13th at the United States Powerlifting Association National Championships in Las Vegas. He was designated as a world-level competitive powerlifter, qualifying for the International Powerlifting League World Championships in Coventry, England.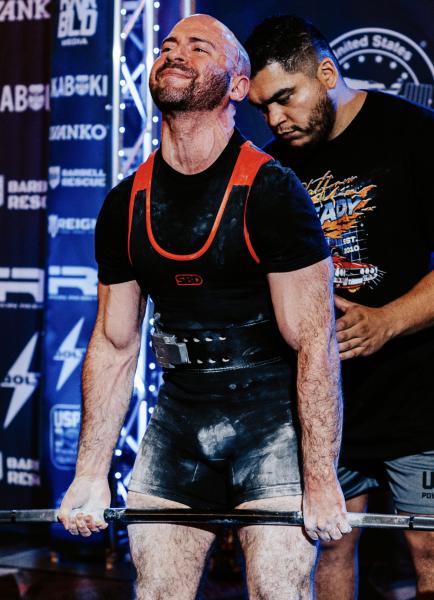 Competition includes the squat, bench press, and deadlift, and results are tallied by adding the maximum weight lifted by each competitor in all three categories. Dr. Elaimy competes in the 67.5 kg (148.7 pound) division and lifted more than 7.5 times his body weight at the national championships.
"There are a lot of people competing to win, but arguably the thing that gets lifters and spectators most fired up is seeing people go out and break through their own personal barriers," he said.
He said there's time for bonding during competition, even among people who could be adversaries.
"We all understand what each other goes through to compete at this level and, at the end of the day, support one another in achieving our goals out of love for the sport," Dr. Elaimy said.
His advantages include having a wife who fully supports his avocation and the University of Michigan Department of Radiation Oncology, which stocks the resident room with protein shakes.
His disadvantages include trying to fit weight training into his work schedule, even with his residency program's backing. His weekends are more flexible, but the workweek can be tough.
"Some people who compete at the national and world levels train full-time," Dr. Elaimy said. "Unfortunately, I'm not able to do that, but I do the best that I can with the time I have."
Although powerlifting is an important part of his life, he said that it will always be just a hobby.
"If I were given the choice to be one of the top powerlifters in the country or the world or be a physician and be pretty good, I would choose being a physician," said Dr. Elaimy, who earned his MD and PhD from the University of Massachusetts Chan Medical School. "It's much more fulfilling for me."
Putting in countless hours of medical training has enabled him to set high standards; he has applied to be part of the Holman Research Pathway because he intends to be a physician-scientist.
He's happy to keep powerlifting as a diversion from his professional life. In addition to enjoying the competitive aspect of weightlifting, Dr. Elaimy trains to keep his body fit and his mind sharp.
"Resistance training has many benefits for almost every organ system in the body," he said. "I think training translates into an overall more positive picture, both from a physical and mental standpoint, so I can do an optimal job as a physician and scientist."
---
Help spread the word