Winning the Harvard Medical School's Young Mentor Award as a radiologist is rare. The honor often goes to internists or surgeons.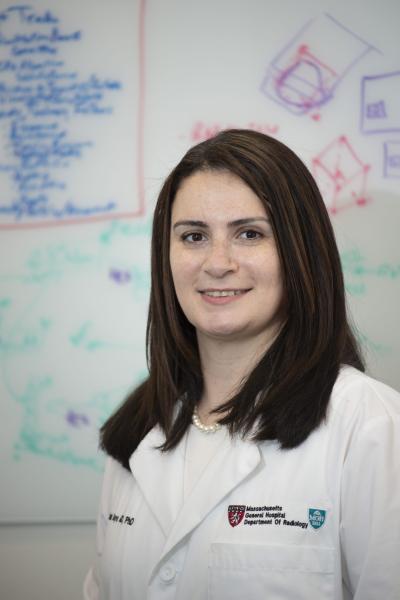 This year's awardee, Dania Daye, MD, PhD, found a way to top that accomplishment. She gave birth to her first child in June on the day the accolade was handed out.
"I was looking over my speech (when I went into labor)," Dr. Daye said.
Dr. Daye handed her comments to a colleague to present before she delivered her first child, a boy. She had more important things to do.
"It was quite an experience," she said.
Dr. Daye's work is only on pause. When she returns in October, the assistant professor of radiology at Massachusetts General Hospital will step back into a full-time job and several more hours per week in her lab working with residents, medical students and pre-medical students.
"While I'm away, I'm telling everyone who's emailing me that we'll talk when I'm back," she said, laughing.
One Harvard award requirement is that the nominee hold a faculty rank of instructor through associate professor and have no more than 10 years of service. This is Dr. Daye's fourth year as faculty.
"It's a new and great idea to acknowledge younger people who are giving back and then getting more invested in helping people," she said.
Connection at Rice University
It was a mentor who helped send Dr. Daye down her career path while she was earning her undergraduate degree from Rice University. At Rice, she met bioengineering professor Rebecca Richards-Kortum, PhD, who got her involved with the Sustaining Excellence in Research (SER) Scholars Program. The program matches undergrads with research internships and engages them with scholars. Dr. Richards-Kortum immediately saw promise in her new mentee.
"It was such a pleasure to work with Dania at Rice," Richards-Kortum said. "She stood out as intensely curious, creative, and persistent through unexpected obstacles. She was the kind of student who really tries to make the most of every opportunity and who makes teaching such a fun job."
Dr. Daye has worked with several other mentors through medical school and residency. The positive impacts of working with Dr. Richards-Kortum remain in place and the two are still in touch.
"I still send her an email every once in a while and update her on where I am," Dr. Daye said. "When I go back to Houston, I'll often see her."
Her original mentor enjoys hearing about Dr. Daye's success. She isn't surprised when she hears good things.
"When she graduated, we all knew she had big things ahead to accomplish and it is so fun to watch her successful career unfold," Dr. Richards-Kortum said.
The SER program at Rice was partially funded by the Howard Hughes Medical Institute. The Hughes connection continued for Dr. Daye when she chose the University of Pennsylvania for her MD and PhD, as the Hughes Institute also supports programs there.
"I had never considered going to the northeast for medical school," Dr. Daye said. "I thought I was going to stay in Texas and remain close to home. As part of the Rice program, I ended up meeting admissions officers from the northeast, including the one for the University of Pennsylvania."
It was during medical school that Dr. Daye laid the groundwork for her future as a mentor and radiologist. Radiology Department Chair Mitchell Schnall, MD, PhD, was her PhD co-advisor.
"The fact that he gave me the time to meet was amazing," Dr. Daye said. "I was a first-year medical student. Now, he is one of the mentors I reach out to when I want to make big decisions in my career."
Pulling Double Duty
She started serving as a mentor while at Penn by working with an undergrad. Dr. Daye took the time to pass along lessons she was still learning as a mentee.
"I had a student work with me on one of my projects in the lab," she said. "I slowly learned how to mentor that student by interacting with my PhD advisors."
She ramped her mentoring up as a resident at Massachusetts General Hospital, mostly working with Harvard medical students in the lab she started and continues to run. Several International Medical Graduates have worked in her lab.
She counts 15 mentees who have benefitted from her work as a resident and faculty. In every case, success is a two-way street.
"I tell my mentees that I'm invested in them, but they have to also work hard to get to where they want," Dr. Daye said. "I cannot commit to them without them committing to their careers."
Dr. Daye earned the Harvard award because of her dedication to the craft of being a mentor. She appreciates those who took the time to help her and gratefully passes that knowledge to the next wave of physicians.
"I have been very lucky over the years to have amazing mentors," Dr. Daye said. "They showed me the way and opened doors that I didn't realize existed and I am now paying it forward"
---
Help spread the word