Sara Lami, MD, MPH (Master of Public Health), moved to the United States in 2014 to start her radiology career as a postdoctoral research fellow at the Memorial Sloan Kettering Cancer Center. After almost a year, she became discouraged and returned to her native Iran.
"I was completely lost," said Dr. Lami, who went home in April 2015 to think about her future. "My leaving had nothing to do with Memorial Sloan Kettering. I thought I couldn't make it. The cultural differences and the challenges of being an International Medical Graduate were too much. I thought that being an IMG would remain a stigma no matter how great my scores or CV would be."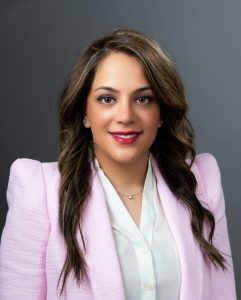 In January 2016, after a few months at home in Iran, she gave American medicine another shot by starting her second postdoctoral research fellowship at the University of Pennsylvania Department of Radiology. She had remained in touch with radiology mentors across the U.S., including David Yousem, MD, MBA, vice chair of radiology and professor in the Johns Hopkins University School of Medicine Department of Radiology and Radiological Science.
Dr. Lami, who earned her medical degrees at Tehran University of Medical Sciences, initially contacted Dr. Yousem in 2015 to see if Johns Hopkins had fellowship opportunities for her. Although no spots were available, Dr. Lami didn't get the brushoff. Instead, Dr. Yousem kept in touch, suggesting other programs that could be a good fit.
"David is unique in multiple aspects, and he is always available," Dr. Lami said. "You don't have to wait for his response, and he is such a kind human being, even under stressful conditions. His help was the turning point of my coming back to the U.S. and knowing that I wanted to be a radiologist, no matter what.
"David changed my life by bringing a new perception and mindset about radiology. He even helped me to know myself and my abilities better. He reinforced my abilities, which helped me to remind myself I am good! My CV is good enough! I can do it!"
A 'PGY-40'
Dr. Yousem, who calls himself a PGY-40 (he graduated from the University of Michigan Medical School in 1983), helps Dr. Lami and other mentees through all aspects of finding their way in radiology.
"I think of mentorship as part coaching (through issues), part sponsoring (suggesting your mentee's name for opportunities in the field), part advising (recommending opportunities for research, teaching, and clinical initiatives), and part elevating (supporting someone through obstacles and hardships)," he said. "Sara and I ran the full gamut of support during her journey."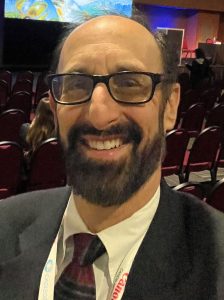 After finishing her research fellowship at the University of Pennsylvania, Dr. Lami started her radiology residency at the University of Texas. All the while, she was focused on neuroradiology, like Dr. Yousem.
"I wanted to be a neuroradiologist, a great one similar to David," she said. "So, for my first two years of residency, I thought I would not do anything but neuroradiology as my fellowship."
She eventually changed her focus, primarily because of cancer patients she saw as an intern in Iran. Luckily, she had a mentor to consult.
"Because of my sincere interest in cancer imaging, I really could imagine myself happier and more satisfied as a body imager focused on cancer imaging," she said. "I remember saying, "Hey, David, are you going to be too mad if I don't apply for neuroradiology and go to the body?" And he said, "Oh, no, of course not. You should follow your passion. Just follow your heart."
Taking a cue about the importance of service, Dr. Lami is now part of the Society for Abdominal Radiology (SAR) Residents and Fellows Section Governing Council and an editorial board member for the Radiological Society for North America journal Radiology: Imaging Cancer.
Paying it back
Through SAR, Dr. Lami has become a mentor herself. She works with other medical school students, answering their questions and helping them think about what paths they want to follow after graduation. She's there to answer questions about radiology but doesn't use mentorship to push medical students into the field.
"I am there for them to provide a valid and accurate perspective of radiology as a resident and during the early career," she said. "David was the one who helped me get to know myself without really forcing me to be the person that he wanted me to be. That's my goal as a mentor. I don't want to force anyone to go to radiology, to love abdominal radiology, to love research, or to be like me. I just want them to be the best of themselves."
A mentor to many, Dr. Yousem gets particular delight from seeing his mentees take on leadership roles, especially International Medical Graduates who have to make big adjustments in America.
"I enjoy seeing people achieve their potential," he said. "My mission statement is 'Create leaders.' When people like Sara overcome hurdles that have been placed before them, like visa issues, cultural differences, or other challenges, and rise in their field, I feel great. I have mentees now that I can see leading neuroradiology in the next five to 10 years. It makes me optimistic about our specialty."
Dr. Lami is finishing the last few months of training and will soon start her fellowship in abdominal imaging. Looking back, she's happy that Dr. Yousem has always been there for her.
"He is a radiologist, researcher, advisor, and mentor and, at the same time, colleague and friend," she said. "I'm in radiology because I love it, and I love to follow what my heart is asking me. I had the blessing of seeing lots of faculties. Now I understand the great difference between faculty or supervisor and mentor. My ultimate goal as someone in her early career is to be a helpful mentor; hopefully, someone like David Yousem."
---
Help spread the word