Like many people across the United States, Hala Mazin, MD, proudly wears a pink ribbon during Breast Cancer Awareness Month. Dr. Mazin, who said pink is her favorite color anyway, knows that the ribbon can remind others to think about the importance of cancer screenings.
Unlike many people, Dr. Mazin spends the whole year dedicated to raising awareness about breast cancer and helping those who have it. She's working through a breast imaging fellowship at The University of Texas MD Anderson Cancer Center in Houston and will continue in the field when she starts at a private practice in Dallas next year.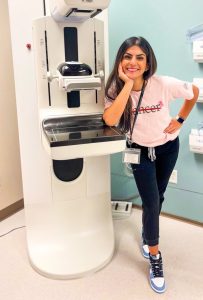 "We really want to emphasize the fact that you shouldn't just be getting your screenings in October. You should get them all year round," she said. "That being said, everyone here knows it's important to participate in Breast Cancer Awareness Month." 
Being part of a prestigious medical center that treats all forms of cancer gives Dr. Mazin opportunities that she might not otherwise have, making her a more seasoned physician after she finishes her fellowship. 
"We have a lot of international patients who come with either rare or extensive diseases that we don't normally see in the community," she said. "That's something that I wouldn't see without my fellowship. Not to say that there aren't residencies that would give you that kind of experience, but it's just additive. I get a whole year of it." 
Her research and clinical work at MD Anderson have focused on breast cancer; there are approximately 275,000 new diagnoses made every year in the U.S. The resources now at Dr. Mazin's fingertips far exceed anything she has seen in medical training. 
"When I came here, I found many research opportunities," said Dr. Mazin, who performed her residency at Advocate Illinois Masonic in Chicago. "There are so many projects that I could just jump on, which was amazing. Also, we have an amazing database of patients that I can use." 
Breast cancer has played a role in her personal life. Her aunt was diagnosed with the disease in her home country of Iraq at 35 and, despite undergoing a mastectomy, she died seven years later. 
Her aunt's memory lends perspective and keeps Dr. Mazin on her toes while reading scans or discussing treatment options. 
"It was terrible," said Dr. Mazin, whose family moved to the U.S. from Iraq when she was 10. "But I'm not the only one. I think most everybody has been affected by cancer in some way. It's always an inspiration to me because I think, 'What if this was my aunt?' I can't miss something because (the patient) is someone's loved one." 
When her patients go through tough days, Dr. Mazin said the best way to help is by being herself and remaining empathetic. 
"The way I deal with it is not what everybody else does," she said. "But I'm just human. If I see my patient and they're having a hard day, I give them a hug. Sometimes, that's all you need. It's what I would do for my sister or mom." 
In her first few months of fellowship, she has gained a different perspective on life. She's quick to open doors and say hello to patients and colleagues. Even when work gets challenging, she puts on the friendliest face possible. 
"You never know what people are struggling with, especially in a cancer center," she said. "I step back and think that the person may have just gotten the worst news of their life. So I just try to be a kind person." 
Working at a large facility like MD Anderson has helped Dr. Mazin realize she made the right career choice. While she acknowledges that working at a cancer center is demanding, she feels fortunate to have the chance to become more knowledgeable about her specialty. 
There are plenty of positive days, too, even when dealing with the specter of breast cancer.
"Early detection through screening helps," she said. "I don't want to forget about all the good outcomes and that is honestly awesome. Who doesn't want to tell someone, 'Hey, you're cancer-free?'"
---
Help spread the word