By Oleksandra Kutsenko, MD
In the past few decades, interventional radiology (IR) has evolved from a last-resort palliative treatment option to becoming a therapeutic paradigm and integral part of medicine, treating and often curing a multitude of pathologic conditions. Just for liver cancer alone, interventional radiology procedures comprise more than 54 percent of all treatment interventions.(1) Continued advancement in equipment and imaging technology provokes continued growth of the scope and complexity of available IR procedures.
With this expansion, IR interventions have become vital centerpieces in treatment pathways for trauma, cancer, pulmonary embolism, critical limb ischemia, gastrointestinal bleeding, and stroke. We have produced large amounts of research data showing that IR-inclusive practices deliver some of the best treatment outcomes and decrease cost of hospital stay and post-treatment rehabilitation. Why then are there still so many physicians and patients who do not know about interventional radiology?
Maybe we should be knocking on other doors. The majority of our scholastic efforts are now directed toward publishing our research in radiology or interventional radiology journals and educating our own IR community members at radiology conferences. The importance of these by no means should be underestimated. At the same time, very few non-IR physicians ever read IR journals or go to radiology meetings. Thus, it is our responsibility to reach out to them and deliver the message. It is vital for our specialty to submit our research to non-IR journals as well and present at the major conferences hosted by other specialties. Individual practices can be influenced by attending hospital interdisciplinary meetings and presenting grand rounds at other departments. This will not only spread the word about IR among other clinicians, but also improve our own research, as we will likely face new clinical questions brought up by other specialties.
To an even further extent, it is necessary to spread awareness about IR among the general population. The majority of people have never heard about minimally invasive treatment options that interventional radiology has to offer. To take just a few examples, 18 percent of the US population has at least one health care visit per year due to lower back pain.(2) IR-operated kyphoplasty procedure may relieve the pain the same day, decreasing analgesics use, further hospital visits, and missed workdays. The new geniculate artery embolization procedure may significantly decrease the burden of all-too-common osteoarthritic disease. Uterine fibroids or prostate artery embolization can improve male and female health and quality of life. These procedures are predominantly performed in outpatient settings, and as many outpatient procedures require patients to seek this specific care. Media advertisement and the use of large social platforms like TED Talk can, on a large-scale, increase awareness about conditions that interventional radiologists can treat. This, in turn, can significantly increase the number of patients we can help, improving morbidity of numerous diseases as well as decrease overall healthcare expenditure.
Interventional radiology with its minimally invasive image-guided procedures is thriving in the light of new technological and clinical skill advancements. This is the time for IR to break the spell of being the best-kept secret in medicine and show our value to our broad communities.
Dr. Oleksandra Kutsenko is a SUNY Upstate Medical University Radiology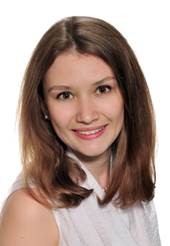 Resident. She graduated from Medical University of Lublin in Poland and completed her internship at SUNY Upstate Medical University. She serves as a Society of Interventional Radiology (SIR) Grassroots Regional Director and participated in the SIR Grassroots Leadership Program in 2018 advocating for interventional radiology in Congress. In 2019, she presented a TEDx Talk about increasing awareness of IR among the general population. Dr. Kutsenko is an SIR RFS Advocacy Chair.
1. Kwan, S.W., Kerlan Jr, R.K. and Sunshine, J.H., 2010. Utilization of interventional oncology treatments in the United States. Journal of Vascular and Interventional Radiology, 21(7), pp.1054-1060.
2. BMUS Impact of MSK on Americans 4th edition.
www.theboneandjointburden.org
, 2018.
---
Help spread the word