By Elizabeth Snyder, MD
Receiving an invitation to give Grand Rounds from another institution can be exciting and daunting. While it is an honor to be invited to speak, the thought of presenting to a room full of smart medical professionals can be intimidating. Yet, if you can get over the initial nervousness and put together an enticing presentation, giving Grand Rounds can be beneficial and rewarding for you and the institution you visit.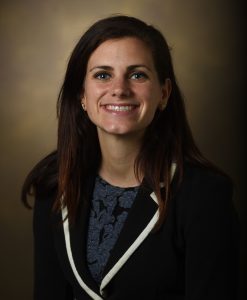 The hardest part of Grand Rounds for me (and I suspect for others who are earlier in their careers) may be preparing the talk itself. Crafting a presentation can be extremely time consuming: It requires creating a concept, assembling slides, and then dedicating time for practice and refinement (after hopefully receiving feedback from colleagues, mentors and loved ones). In addition to Grand Rounds itself, you get the opportunity to give a resident teaching conference. While this may add to your preparation time, resident conferences also benefit both parties. The residents, of course, learn from you, but you also have a chance to get feedback and answer their questions, which can help improve your conference for the future.
Often, a visit to a different institution for Grand Rounds may also include one-on-one meetings with other faculty. These are great opportunities to make new or develop prior connections, share research ideas, or find a new mentor or mentee. If you meet someone during your visit but don't have a chance to formally meet with them while you're on site, be sure to grab their email and set up a virtual meeting later on! The connections facilitated by a Grand Rounds visit can be one of the most significant takeaways from the experience.
While virtual Grand Rounds are common and are useful to allow more people to give visiting lectures who may otherwise not be able to travel, I urge those with the option to go in person. While you can certainly share your expertise and have one-on-one meetings on video conference, you may miss out on side conversations in the conference room after your talk or a serendipitous meeting in the hospital hallway. Further, visiting another city gives you an opportunity to see a different radiology department, which may spark an idea to take home. You may also have time to check out a new restaurant or coffee shop. And, if you're lucky enough to have been invited by a friend or former colleague, visiting is a great chance to catch up!
I recently visited the Department of Radiology at the University of Tennessee in Knoxville and gave a talk about well-being and women in radiology. After the talk, a few people from the audience shared their experiences and observations. I appreciated the opportunity to receive feedback from others who may have different perspectives, so I can continue to refine my thoughts (and future talks). Also, being in Knoxville gave me the chance to see residents who had previously rotated at our institution and – probably the best part – spend time with my good friend and co-resident who invited me.

Giving Grand Rounds is a rewarding and gratifying experience. If you have the opportunity to do one, I urge you to take it and make the most of it. Not only will you gain a lot from the experience, but the institution you visit will feel lucky to have invited you.
Elizabeth Snyder, MD, earned her medical degree from Case Western Reserve University and completed her diagnostic radiology residency at Johns Hopkins Hospital and a fellowship in pediatric radiology at Texas Children's Hospital. Dr. Snyder joined the Vanderbilt faculty in 2018 as assistant professor. She serves as Vanderbilt's Vice Chair for Wellbeing & Culture, and Associate Director of Women in Radiology.
---
Help spread the word