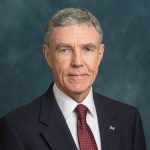 Last month,
N. Reed Dunnick, MD
, was
named one of the American Board of Radiology's associate executive directors
. In his new role, Dr. Dunnick will be the staff liaison for ABR diagnostic radiology trustees. Dr. Dunnick served as the University of Michigan's Fred Jenner Hodges Professor and Chair of the Department of Radiology for 26 years before stepping down and accepting the position as Editor-in-Chief of Academic Radiology. An ABR volunteer for 29 years, Dr. Dunnick recently took time to answer a few questions about his new role and why it's vital to give back to the field.
What prompted you to get involved as an ABR volunteer?
The mission of the ABR is an important one, as it helps to elevate the quality of radiology practice. The ABR examinations have a tremendous effect on resident learning. (If we test it, they will learn it.)
How much of a difference can one person make as part of an ABR committee?
Each individual has an important role to play in ABR committee work. As a result of the different training programs and experiences, the individuals add diversity, and these diverse committees deliver a better product than if any one person did it.
What will you be doing as an associate executive director?
I will provide input as a "user" to help make the ABR processes more efficient and user friendly. Having had experience in medical center leadership, I can appreciate the value of board certification and Maintenance of Certification to the quality of care delivered.
What are your immediate priorities?
Making the ABR processes more efficient and helping to hold down the costs for our candidates and diplomates.
Why is board certification so important as a means of serving the public?
The process of board certification encourages learning and includes professionalism. Thus, diplomates are better able to deliver high-quality patient care. Board certification also helps patients decide whom they would like to consult for their care.
---
Help spread the word