The New Year has almost arrived, and everyone has goals to reach in their professional careers. We asked a few current and future residents, and diplomates what they would like to accomplish in 2023.
Deven Champaneri, DO
Transitional year resident (Blake Medical Center)
I'm looking forward to getting involved with medical education and teaching opportunities through my residency program. Furthermore, I plan on joining Rad-Aid to gain exposure to the global impact of radiology and how I can better assist the needs of others throughout my training. Overall, I am excited to begin my career as a radiology resident!
Tiffany Chan, MD
Assistant clinical professor, breast imaging fellowship director (UCLA Health)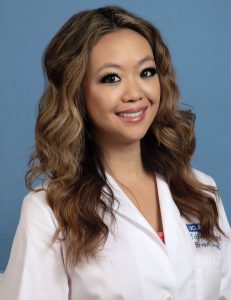 My first goal is to be the best fellowship director for my trainees. I am constantly looking for innovative ways to create a well-rounded breast radiology educational program for our fellows. I see each trainee as a future colleague who can propel our field forward. I will continue to use my experience as a former fellow and my passion for recruitment to achieve this goal! My second goal is optimizing social media to help inspire and educate future radiologists and non-radiology physician colleagues. One of my followers actually started residency at my institution this year and we've already started a research project together! I hope to continue expanding my outreach; if you want to learn about radiology and breast imaging through funny metaphors and the occasional subpar dance move, you know where to find me.
Kyle Cooper, MD
Associate director of IR and IR/DR residency program director (Loma Linda University)
Over the next year, the majority of my professional goals are centered around my new role as IR/DR program director at Loma Linda. While the program has been training excellent IRs for decades, I hope to make small improvements like increasing resident presence in clinic on and off the IR rotation, improving our rounding service to take even more ownership of patients after procedures, and providing a more objective system of graduated autonomy for procedures. I hope to become a more well-rounded educator by attending conferences with content aimed at radiology program leaders like AUR, RSNA, and SIR/APDIR. Finally, I hope to balance these duties effectively with my responsibilities as a husband and father and with the training and racing schedule required as part of my leadership role on my semi-professional cycling team, Team Six Project.
Yasha Gupta, MD
Breast imaging fellow (Memorial Sloan Kettering Cancer Center)
The professional goals I would like to accomplish are passing my certifying exam, starting my first attending job, continuing to work with the ACR RFS Executive Committee, and hopefully continue my publishing journey with more breast imaging related writing.
Kalpana Kanal, PhD
Director, diagnostic physics section, department of radiology (University of Washington)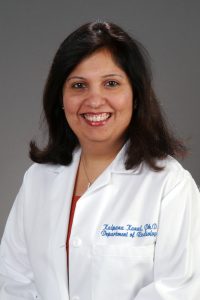 My job is to ensure that we keep up with our work and teaching responsibilities with our ever-increasing workload. My goal is to hire two more medical physicists into the section in the first half of the year. Recruitment is always a challenge and competitive so this will take some time. The other exciting news is that we are starting a two-year medical physics imaging residency program in July 2023 now that we have received national and local accreditation. Being the resident program director comes with a lot of responsibilities, but I am confident that, along with my associate program director, we can do a stellar job in ensuring we have a fantastic residency program. My section and I are excited about the opportunity to train the next generation of medical physicists.
Leo Martinez, MD
Chief Radiology Resident (UMass Chan Medical School-Baystate Medical Center)
After 15 years of training, I continue to have a strong desire to keep growing as an academic radiologist by giving back what I have received. In 2023, I want to keep growing as a better radiologist and human while working as a musculoskeletal radiology fellow at Beth Israel Deaconess Medical Center (BIDMC). I hope to keep sharing what I have learned with residents and medical students coming to work with us at BIDMC, and I wish to have a positive impact on the lives of patients and colleagues.
Amy Patel, MD
Breast radiologist and medical director, Breast Care Center (Liberty Hospital); assistant professor of radiology (University of Missouri-Kansas City School of Medicine)
The goals I would like to accomplish are passing diagnostic breast imaging coverage in the state of Missouri as we have introduced a bill to be considered in the next legislative session, working to strengthen the relationships of the organized societies in which I'm involved with the ABR, and of course, winning NFL Fan of the Year!
---
Help spread the word