No matter who plays in this season's Super Bowl, Amy Patel, MD, and her husband, Joe Rathermel, will be in attendance. They hope one of the teams on the field will be their beloved Kansas City Chiefs.
The two will be at the game in Glendale, Arizona, as guests of the NFL. Dr. Patel was named the Chiefs Fan of the Year last month, so she and 31 other super supporters are competing for NFL Fan of the Year, an honor that will be given during Super Bowl week.
"There's a private Facebook group that includes all the different teams' fans of the year," Dr. Patel said. "It's really cool to see everybody cheering each other on. We are all very die-hard for our teams. I feel honored to be a part of the community. Everyone's been very welcoming." 
The NFL Fan of the Year will be determined by a combination of a panel of judges and an online vote. There are three criteria that go into determining the teams' and the league's fans of the year:
Passion, enthusiasm, and fandom for their team and the NFL.
Inspirational story.
Community spirit.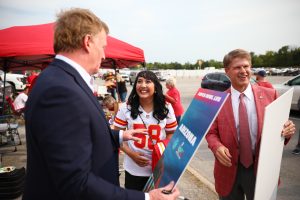 The Fan of the Year award came about after Dr. Patel's husband nominated her for a Lamar Hunt Legacy Seat because of her lifelong commitment and community involvement to breast cancer care and access. Dr. Patel is a breast radiologist and medical director of the Breast Care Center at Liberty Hospital in Missouri and assistant professor of radiology at the University of Missouri-Kansas City School of Medicine. 
The Chiefs honor a season ticket holder who makes significant contributions to the community with the Hunt honor at each home game. Hunt was the founder of the old American Football League and founder and owner of the Chiefs. His son, Clark, is now the team's part owner, chairman, and CEO. The team then picks one Lamar Hunt Legacy Award winner from that group. 
Dr. Patel, who's also the vice chair of the Kansas City Chairman's Circle Board for the American Cancer Society and heavily involved with the American College of Radiology, was a natural choice for the legacy honor. She grew up in rural Missouri as part of a family that loved gathering to watch the Chiefs on TV. 
"I have been a Chiefs fan for as long as I can remember," said Dr. Patel, who became a season ticket holder in 2019. "We couldn't afford to go to games when I was a child. One of my goals when I became a practicing physician was to get season tickets. It's like a dream come true that I've been able to do that." 
Back-up Plan for RSNA
There's one exception. If the Chiefs play a home game on the Sunday or Monday after Thanksgiving, Dr. Patel is a no-show. She's busy that weekend fulfilling her many commitments at the RSNA annual meeting in Chicago. 
Always one with a backup plan, she intends to catch the Los Angeles Rams-Chiefs game on TV this November while at RSNA. 
"I found a really cool Chiefs bar in Chicago, so I'm going to try to watch the game there," Dr. Patel said.
Over the past three seasons, Dr. Patel has watched the Chiefs both win and lose a Super Bowl. When she says, "sports are life in the Midwest," she's not kidding. 
"I feel the lowest of lows with the fans, the highest of highs," said Dr. Patel, who admitted that she felt ill the week after the Chiefs lost Super Bowl 55 to the Tampa Bay Buccaneers in 2021. "I eat, sleep, and breathe this stuff with the fans." 
Dr. Patel learned that she was the team's Hunt Legacy Award winner before Kansas City's win over the Los Angeles Chargers on Sept. 15. But there was even more news coming, 
She thought it was a little odd when the Chiefs asked her if her usual tailgating group would set up in a private lot adjacent to where the players park. She knew something was up when Clark Hunt and NFL Commissioner Roger Goodell started walking toward her at the tailgate. A Chiefs representative gave her the heads-up that the two VIPs wanted to meet her.
'They're Coming Toward You'
"She said, 'Get ready. They're coming toward you,'" Dr. Patel said. "I had all this barbecue sauce on my face, and I was trying to wipe off my hands." 
Hunt congratulated her for winning the award named after his father and pulled a personalized jersey from a bag he was carrying that had the number 22 on it, signifying her status as the team's fan of the year. 
The video crew capturing the moment got their money's worth. 
"I was ecstatic," said Dr. Patel said. "I was so surprised and taken aback. Everyone kept the news from me.
"I'm super excited to represent Chiefs Kingdom. I'm going to try to do everything I can leading to February to win for the Kingdom." 
Whatever happens during Super Bowl week, Dr. Patel sees her honor as a win for radiology. All 32 NFL Fan of the Year finalists will have their stories shared on the league's website and their photos will appear on the cover of Sports Illustrated. One former winner was a physician's assistant who helped save another fan's life by administering CPR at a Cleveland Browns' game. 
"It's so rare we get an opportunity like this to elevate the role we play when it comes to patient care, and especially when it comes to breast cancer care," she said.
---
Help spread the word