By Toby Gordon
Public Member, ABR Board of Governors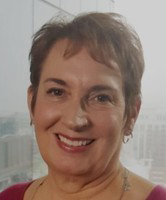 Any description of educational and testing modalities before the COVID pandemic would probably sound like a lecture by Fred Flintstone about technology in the Stone Age. While we have been in what's called the Meghalayan era (named for a stalagmite in an Indian cave) since the end of the Iron Age in about 332 B.C., the pace of change in the last four months signals that as far as education and testing, we may be in a new era yet to be named.
Given the magic of Zoom, which no time traveler would believe to be real, it is hard to imagine that medical students once crowded into amphitheaters to hear lectures or observe surgery, such as the scene depicted in the famous Thomas Eakins painting of the Agnew Clinic. This master work was painted in 1889, a gift of Dr. Agnew's students at the University of Pennsylvania. In it, we see a class consisting entirely of men in suits, with a lone female, a nurse clad in white, standing across from Dr. Agnew. Eakins painted with exquisite attention to detail, rendering an almost photographic depiction of a medical school class at that time.
A current depiction of medical school classes might include a screen shot of Zoom participants of all genders in a synchronous class or a prerecorded asynchronous lecture. Note-taking services and, later, audio recording technologies first enabled students to skip lectures. As students pushed for more asynchronous learning, medical schools began videotaping lectures. A camera positioned in the back of the lecture hall recorded what the speaker said and what was written on the blackboard. Numerous technical issues plagued this approach – the need for a videographer, audio and visual quality, and digitizing, storing, transmitting and accessing content. Copies of such recorded lectures must certainly be in the Smithsonian Institute by now, relics of early distance learning, and perhaps an empty auditorium might also be on display.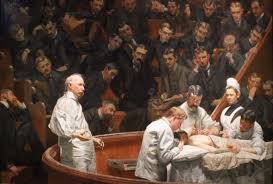 Student demand for more and better content continued to drive technology acquisition and adoption by schools. Like any changes in the traditional way of educating students, there was resistance, the academic equivalent of saying you walked miles through the snow to get to school. Each new development — from laptop computers, mobile phones, collaboration tools such as group chats and calls, Google documents, and social media – presented challenges to late technology adopters, perhaps a category many senior faculty once were in. The generational differences in use of technology challenged educators to stay current with what students were using. At one point, I found myself telling students not to Snapchat with me during class. Does anyone even use Snapchat anymore? Now, I think about whether I need an Instagram feed. (I decided I didn't.)
I also learned that keeping up with which apps are in favor is like trying to know what bands are popular. If you stopped following music after Bruce Springsteen and the E Street Band, the names of current chart leaders must baffle you as they do me. For many educators, a similar challenge to knowing the names of musicians is knowing the platforms and venues for online learning and how they work, as well as tools used in the workplace, like Slack or Teams.
In retrospect, my technology worries were rather small, mostly related to running the best possible class. There weren't many concerns about the impact of the technologies I used on the welfare of my students, other than short-term, class-related stress. The pandemic has helped put that into perspective. We have learned a lot about education and testing since the start of the pandemic – which technologies to use and how to use them for meetings and collaborations, how to help each other learn and adapt to new technologies, and more importantly, how technology can speed up information gathering and decision-making. There weren't meetings to discuss how we would communicate with each other; Zoom and other web-based conference tools seem to have just happened. There was no time for committees about web-based conferencing. Late technology adopters had to get on board or be left behind. In the awkward early weeks of Zoom, when clinical care, business meetings, and classes quickly transformed to the virtual world, we had to tell people to "mute" or explain how to "start video." Those who knew how to use the technologies coached those who didn't.
One senior colleague relayed a story about a meeting he missed, in which junior faculty made a key decision without his input. He was a bit surprised, but the rapidity of communications while working remotely has enabled accelerated decision-making. Organizations that lacked processes for stakeholder input on decisions found that social media was providing some of that input, and not always in a friendly way, such as when universities that did not rebate tuition quickly found out after the move to online.
The move to remote testing for board certification illustrates lessons learned in the pandemic. After a few optimistic delays in rescheduling, it was apparent that testing would have to be done remotely. The technology issue at hand wasn't just about the moment; it had far-reaching implications for test-takers and their personal and professional lives. Through social media, Reddit forums, and other public venues, there was a quick surfacing of issues. Facing time-sensitive deadlines, various stakeholders in the testing process – both early and late technology adopters – started to communicate more directly about how to pivot to remote testing. While there is no substitute for face-to-face communications, the familiarity with web conferencing helped needed conversations take place.
A contemporary version of the Eakins painting would show a diverse array of faces crowded on a screen rather than in a seating gallery, the attention on the surgeon replaced by participants engaged with each other, discussing how best to move forward. There is no marble-floored amphitheater proscenium in Zoom, and that may be one of the most enabling aspects of this technology for communication.
Toby Gordon, ScD (Health Policy and Management, Johns Hopkins University) is an associate professor at the Johns Hopkins Carey Business School with expertise in healthcare policy and management. She holds joint appointments in the Johns Hopkins Bloomberg School of Public Health (Health Policy and Management) and the Johns Hopkins University School of Medicine (Surgery), and teaches in the Frankfurt (Germany) School of Finance and Management International Healthcare MBA program.
---
Help spread the word