By Asra Nayab, MD
An old saying, "The problem with the future is that it is not what it used to be," best describes residents' situation regarding initial certification exams.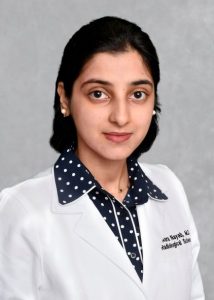 Since its inception in 1934, the American Board of Radiology has been an evolutionary body. In 2015, the ABR made the notable transition from oral boards to the computerized version conducted in customized testing centers. While that was a planned move for which mental preparedness of both sides   ̶  the ABR and the candidates   ̶  was not a question, the current COVID-19 situation is a rock falling from nowhere. Resilience is the attribute that makes it possible to respond to sudden, unanticipated demands and a quick return to normal operation with minimum disruption in performance. They say that necessity if the mother of invention. We need to invent a way to get past that rock, because it isn't moving on its own.
Speculations about the "rock" remind me of the famous painting of the blind monks. Each blind monk, failing to see the entirety of an elephant, describes the animal from his limited perspective. Similarly, everyone has an opinion on the exam situation. A broader perspective, or seeing things from a different angle, is and has always been the first step to intelligent problem solving.
I must be the 100th person to state that a technology-driven field ought to have a technology-driven solution for problems. I am grateful to the ABR for heeding resident concerns and devising a much called for remote version of its exams. Here we are at a crossroads where history is taking a new turn. We, the "Class of COVID-19," will be the first to walk down that path. However, much like every turn in these times, this comes at a price: Mandating R4 residents to divert attention to core exam preparation for most of this year, which traditionally is not the case. But nothing happening right now is traditional. And in hopes of getting through this milestone uneventfully, I believe we all can give ABR its due share of time for designing and facilitating the process for us.
What do they say? "When life gives you lemons." You know the rest.
Asra Nayab, MD, is an R4 at the University of Oklahoma Health Sciences Center in Oklahoma City. She will be pursuing a neuroradiology fellowship at Mayo Clinic in Minnesota starting next year. Dr. Nayab has a keen interest in education and healthcare economics.
---
Help spread the word