As an ABR volunteer, Mahadevappa Mahesh, MS, PhD, is compelled to participate in Continuing Certification (MOC).
That doesn't really matter to the medical physicist and professor of radiology and cardiology at the Johns Hopkins University School of Medicine. Despite his lifetime certification status, he says he would remain engaged even if the obligation didn't exist.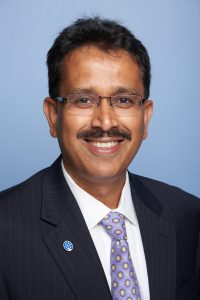 "I'm glad the ABR has made it a requirement," Dr. Mahesh said of the ABR rule that volunteers remain involved in Continuous Certification. "But even without that, I think it is justifiable that each of us who has a lifetime certificate needs to participate if we are asking others to do it."
Dr. Mahesh, who holds a certificate in diagnostic medical physics, finds Continuing Certification – Online Longitudinal Assessment (OLA), in particular – to be a low-stress way of staying up to date on developments in his field.
"We all like to keep up on top of our technology," he said. "However, we are also quite busy with our professions, and we have little time to spend understanding the latest advancements. Even though fundamental physics principles remains same, technologies and protocols are changing. By participating in OLA, you answer practice-level questions and thus keep up with latest advancements."
He also appreciates that, while he learns by answering OLA questions, he doesn't need to study. Participating in OLA enables him to reenforce knowledge and pick up a few tidbits along the way when he submits an occasional incorrect answer.
"Most of the time, especially in the area that I'm in, OLA questions are just working knowledge," Dr. Mahesh said. "In some areas that I do not practice every day, I need to go back and look at the material when I get a question wrong. I'm taking it in a positive stride. It gives me an opportunity to learn. Sometimes, it's extra work, but in the long run, I find it to be very helpful."
Dr. Mahesh appreciates how easy it is for diplomates to use OLA. Questions arrive every Monday morning and participants can answer them right away or save up to eight at a time.
He's quick to add that it beats the days when diplomates had to sit for an in-person exam every 10 years as part of their certificate maintenance.
"It's day and night," he said. "That is one of the reasons that we do not hear too many radiologists complaining about it. Instead of having to take time away from their clinic and sit down and study, they have flexibility. I sometimes do two weeks together or sometimes one month together. That's why I like it. It's not a one-time make-or-break. It's ongoing. There's no tension of a sit-down exam. I think that's why OLA has become acceptable for the majority of people."
This is the second in an occasional series about lifetime certificate holders who participate in Continuing Certification. Dr. Mahesh can be found on Twitter @mmahesh1.
---
Help spread the word