By Sanjeev Bhalla, MD
Many years ago, my mentor, Stuart Sagel, told me that academic radiology was like running a relay race. As an attending, my job was to take the baton from one generation and pass it on to the next.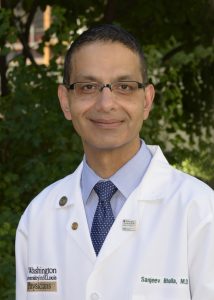 For the past 20 years at the Mallinckrodt Institute of Radiology at Washington University in Saint Louis, I have collected many batons. As with any teacher, my style represents a compendium of my teachers, my peers, and, equally as valuable, my residents and students. With so many people contributing to making me a teacher, it is hard to take credit for winning a teaching award and yet it is incredibly meaningful. I was beyond thrilled to win the teaching award from A3CR2 (the radiology chief resident society of the Association of University Radiologists).
This honor provides a great vehicle to reflect on all those people who have made me the teacher I am. I am truly honored and humbled. I am also incredibly lucky to have trained with former ABR trustee, Dennis Balfe, who as program director showed me how dynamic learning and teaching can be. It is not possible to list all the teachers who have impacted me, but one who deserves special recognition is my former co-resident, Christine (Cooky) Menias. From early on, she emphasized that learning and teaching were for the benefit of our patients. Her patient-centric approach to teaching and learning radiology has become a fundamental core principle for me.  
Throughout my life, I've always been athletically challenged and, in keeping with Dr. Sagel's analogy, had a tremendous fear of dropping the baton. This award helps show me that, at least for now, I'm safe. 
A board-certified diagnostic radiologist and professor of radiology at the Mallinckrodt Institute of Radiology in St. Louis, Dr. Bhalla is the section chief of cardiothoracic imaging and vice-chair of education. He is the current ABR Cardiopulmonary Trustee. Dr. Bhalla is passionate about resident and fellow teaching. He is also an advocate of life-long learning, firmly believing that any great teacher must be a student in something.
---
Help spread the word