Vincent P. Mathews, MD, was named president of the ABR Board earlier this year. Dr. Mathews, a professor and chair of the department of radiology at the Medical College of Wisconsin, graduated from Indiana University School of Medicine with highest distinction. He completed a residency in diagnostic radiology at Indiana University School of Medicine and a fellowship in neuroradiology at Johns Hopkins.
Dr. Mathews took time recently to answer questions about his new role and what lies ahead for the ABR.
What inspired you to become an ABR volunteer?
"I was asked to participate in the first neuroradiology MOC committee by Bob Lukin, a former ABR trustee, in the late 1990s. The ABR had just issued its first time-limited certificates in the diagnostic radiology subspecialties and needed a group of volunteers to begin working on recertification exams even as the ABMS was in the process of developing the requirements of MOC. This was a unique opportunity for a young (at the time) neuroradiologist to be involved in a new approach to professional development, and I am appreciative of Dr. Lukin's invitation. This started my participation as an ABR volunteer, which has been one of the highlights of my professional career."
What was it like to take over as board president during the pandemic?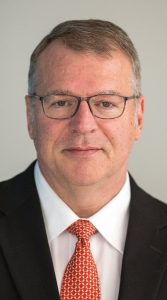 "The COVID-19 pandemic has brought challenges to all of us, and the ABR obviously was not immune (pun intended) to its effects. Guidance on travel, group gatherings, and safety measures were rapidly evolving in April and May, and the Board of Governors were meeting often with our stakeholder groups to determine the best course to fulfill our obligations to our candidates and diplomates. The first week I became ABR president in June was the week we decided to pursue remote exams. We wanted to communicate this decision as soon as it was made and, understandably, the lack of a fully developed plan for our certification exams was frustrating to our constituents. Subsequently, we have increased the opportunities for various groups to provide input to us as we finalize the details for our remote exams in 2021 and have received a great deal of positive feedback regarding our inclusivity. We will continue to depend on our professional societies in diagnostic radiology, radiation oncology, interventional radiology, and medical physics to provide advice as we address the challenges posed by the pandemic."
ABR diplomates have answered more than 2.8 million Online Longitudinal Assessment (OLA) questions since the platform was established in January 2019. What does it say about OLA that we have had such high participation?
"Our diplomates have been very positive about OLA and frequently have praised the platform's ease of use as well as the opportunity to have a more timely and relevant alternative to the every-10-year MOC exam. In fact, we surveyed a random sample of diagnostic radiology OLA participants after their first year of experience, and the respondents reported a high degree of satisfaction with the program."
Aside from establishing remote exams, what will be the ABR's biggest challenges over the next year?
"COVID-19 will continue to affect society for many months, and we will need to continue to work with our diplomates to make sure we are addressing the impact of the pandemic on their lives. This will require a new level of flexibility for the ABR. We also will continue to work with the other ABMS member boards to develop new continuous certification standards in response to the Vision Commission's report. Those standards will be finalized in 2021, and all the boards will need to develop implementation plans for the new standards. Fortunately, over the past five years, the ABR has addressed many of the concerns brought forward in the commission report, and the changes for our diplomates likely will not be as great as they will be for other specialties."
How much does it help you as president to have worked so much with new Executive Director Brent Wagner?
"Brent and I were appointed to the Board of Trustees at the same time in 2011 and have been able to work together on many initiatives. Having that familiarity and close working relationship has made the transition from Val Jackson to Brent much easier than it might have been. His experience as ABR trustee, governor, and officer are invaluable assets as we address the challenges ahead."
---
Help spread the word