Radiology Is a Great Fit for Any Personality Type
2022;15(1):8
By Myles Mowery, DO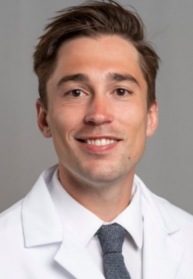 "You are too personable for radiology! Why would you go into such an introverted field?" Anybody else get this? I'm sure plenty have. It's such a common misconception in the world of medicine that radiologists sit in the dark all day, don't have interpersonal skills and dread talking to anyone. The reality is that radiology is one of the most communication-dependent fields in medicine and perfect for any personality type.
Radiologists are communicating throughout their shifts, through dictation, over the phone, or in person in the reading room. As a radiologist, you are communicating with people from every specialty in medicine both in and out of the hospital. Being able to deliver information about imaging findings in an efficient and effective manner while also encountering the many personality types across the healthcare system takes social skill. As you work with this wide variety of individuals, you will develop strong professional relationships/friendships with several of them.
Radiology is dependent on intensive independent study and interspecialty/interprofessional collaboration to effectively and efficiently deliver high-quality patient care. With that being said, yes, there is a significant portion of time needed for studying pathologic findings of disease on imaging and reading imaging on your own. Whether that time is spent in a dark room or not is up to you. Some radiologists have natural light pouring in from their office windows in hospitals, others are literally in the dark, and both are OK!
Radiology is absolutely not a strictly introverted field and it isn't just sitting in a dark room all day, not speaking with a single other human and then going home. It's a very social experience and can be the perfect field for any type of person. There is opportunity to talk to clinical staff. Depending on your personality type, you can capitalize on those chances to get to know people and form great longstanding relationships, or you can choose not to. It's great for people who prefer a good mix of independent study/work and interprofessional collaboration. For those who are more on the extroverted side, there are opportunities to socialize with clinical staff.
Extroverts can flourish in radiology. Opportunities in the hospital include participating in interdisciplinary tumor board conferences. I've had the chance to listen in on several in my intern year on my surgical oncology block. It was a great opportunity for those from surgical oncology, medical oncology, pathology, diagnostic radiology, interventional radiology, medical genetics and more to get together and determine the best treatment approach to complex cancer issues. Throughout these conferences, of course, the team would discuss these cases in depth, but they would also casually joke with each other between cases, demonstrating very clear longstanding, healthy professional friendships among the specialties.
There are plenty of opportunities for patient interaction, as well. Radiology fellowships that routinely involve direct patient care include (but are not limited to): interventional, fluoroscopy, musculoskeletal, breast imaging, and body imaging. These are areas that require direct interaction with patients before, during, and after the procedure is performed. On my fluoroscopy rotation, I was able to get to know a lot of the patients who came through for arthrograms.
As far as other staff in radiology, you'll absolutely get to know the technologists in your department. You'll be talking with them all day, troubleshooting issues involving acquiring proper views for imaging, contrast questions, etc.  You can also step into other reading rooms to say hi to radiologists, give them a call to chat, or ask them for a second opinion. There are also many opportunities to travel and network/socialize, including at the annual Radiological Society of North America (RSNA) Conference, the annual Society of Interventional Radiology (SIR) Conference, and many others.
And I know what you may be thinking at this point, "Myles, you're an intern, you haven't even officially started your radiology training at this point. How would you know?" Before medical school, I worked in the radiology department as a support services specialist for approximately five years. My role was to act as the interface between the radiology department and other clinical staff/patients who wanted to contact us. We would do our best to solve the easy problems, so that the technologists and radiologists could better focus on their jobs. I got to know a lot of people over the years, including technologists, radiologists, nurses, and others from talking on the phone with them so much and occasionally seeing them in person.  Now in my residency at this same hospital where I worked all those years ago, I'm meeting several of these people in person for the first time. It's awesome!
So, for medical students: Don't cross the coolest specialty in medicine (no bias here) off your list. Check it out for yourself! Radiology is a great field no matter how social you are. And for residents/attending physicians in other fields, feel free to stop by or call. We would love to nerd out with you about pathologic findings and interesting incidentals on imaging.
Myles Mowery is a PGY-1 IR Resident at Spectrum Health/Michigan State University in Grand Rapids. He earned his bachelor's degree in biomedical sciences from Grand Valley State University. He completed a dual-degree DO/MBA program at Kansas City University (DO) and Rockhurst University (MBA.) His academic interests include radiology (diagnostic and interventional), quality improvement in radiology, and medical education. Personal interests include modern metal music, playing guitar, attending concerts, and staying fit.
---
Help spread the word