Diagnostic radiologists and those with DR subspecialty certification started their second year of Online Longitudinal Assessment (OLA) last week. Scott Steenburg, MD, is among the many who are pleased the ABR developed a new way to satisfy Part 3 of Maintenance of Certification.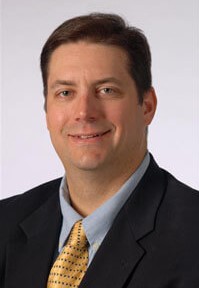 "I was and still am very happy that the ABR decided to transition from a 10-year, high-stakes proctored exam to that of continuous online assessment," said Dr. Steenburg, an emergency and trauma radiologist at Indiana University School of Medicine and Indiana University Health. "Immediate feedback for course correction and remediation is at the core of sound medical education and professional improvement. The OLA format accomplishes that quite well. The questions seem straightforward, and the answer rationales with supporting reference materials is exactly what is needed when areas of weakness are uncovered."
Dr. Steenburg did have one issue with OLA during its first year: While the questions were usually relevant to his work, OLA lacked an emergency radiology option with content that would best qualify as walking-around knowledge for him.
While he sometimes comes across brain tumors, gynecological malignancies, or congenital heart disease during emergency radiology practice, he said he isn't an expert in those areas. He most often works on imaging acutely ill or injured patients and providing consultation to the physicians caring for them. 
"My first year of OLA was good overall, but it was a mixed bag," Steenburg said. "As a radiologist who practices exclusively in the emergency radiology universe, I was uncertain as to which of the clinical practice areas I should subscribe. I read exams of all body parts, all modalities, and all ages. Because of that, one could argue that I could subscribe to any of the practice areas. However, there are parts of each of the existing practice areas that are not a part of my primary practice area. I longed for an OLA exam that tested me on my areas of routine clinical practice, and though the 'general' subscription option did so about 50 percent of the time, it left a lot to be desired."
That issue was solved late last year when the ABR announced that emergency radiology was being added as a practice profile option on January 1, 2020.
"I am thrilled that the ABR has added an emergency radiology clinical practice area as an option," Dr. Steenburg said. "It is my hope that the content will better reflect what I see in routine clinical practice in the ER."
Dr. Steenburg was quick to add that emergency radiology is a viable option for many of his colleagues. DR diplomates without a subspecialty certificate may choose up to three practice areas in which to receive OLA questions.
"It's important to recognize that an ER option isn't just for those of us who identify as emergency radiologists," he said. "I feel that anyone who reads imaging exams from an ER setting could rationalize subscribing to the emergency radiology option. This would include radiologists who practice teleradiology (commonly cover emergency departments), or those who take the occasional weekend or work after-hours call shifts for their practice's 'call' requirement. I could easily see a neuroradiologist or breast imager who takes ER call shifts wanting to choose the emergency radiology option."
Dr. Steenburg completed his diagnostic radiology residency at the Medical University of South Carolina in 2008. He then pursued a fellowship in trauma and critical care radiology at the University of Maryland/R Adams Cowley Shock Trauma Center in Baltimore, where he remained on the faculty until 2011, when he joined the faculty at Indiana University. He serves on multiple committees in the American Society of Emergency Radiology (ASER), American Roentgen Ray Society (ARRS), and Radiological Society of North America (RSNA), and is a regular invited speaker at their annual meetings. Dr. Steenburg's research interest is computed tomography of multisystem trauma.
---
Help spread the word