Growing up in a town of approximately 3,000 people isn't a common backstory for a physician. Jordan Murray, DO, is an outlier.
"It's very close-knit, very small," Dr. Murray said of his hometown, Oliver Springs, Tennessee. "It's one of those towns where there are two stoplights and everybody knows everybody."
Dr. Murray's high school was small, with only 80 graduates in his senior class. It didn't offer college prep courses.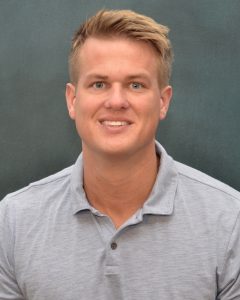 His parents grew up in situations where college wasn't an option. Fortunately for Dr. Murray, his mother insisted that her son, the oldest of her four children, pursue higher education. 
"Ever since I was little, she told me I was going to college," he said. "Both my parents wanted to make sure I had opportunities they never had." 
Dr. Murray earned his bachelor's degree in biology from Belmont University in Nashville, a 2.5-hour drive from Oliver Springs. That's where he met his future wife, who works as a nurse practitioner. 
After graduating, he wasn't sure where to take his career. The local job market was tight for biology graduates, so he entered a master's program at Lincoln Memorial University in Harrogate, Tennessee. 
"They had a medical school track within the master's program," said Dr. Murray, who earned his master's and doctorate in osteopathic medicine at Lincoln Memorial. "I took gross anatomy and fell in love with medicine. Seeing what my wife did at the hospital and hearing about her work every day, I thought, OK, well, this is what I want to do." 
It was during medical school rotations that he discovered radiology. The physicians he shadowed seemed to inevitably wind up visiting the radiology department, where Dr. Murray made connections. 
"The people in the radiology department said I should come down and do a rotation with them," he said. "That's where I was like, oh, these are my people. It's kind of like sports. Everybody's trying to figure out what they're best at. So, I did it and fell in love with it, and here we are." 
He matched at McLaren-Oakland/Michigan State University for his residency and went in full pursuit of a career in diagnostic radiology. Now a chief resident, he's also using his time to help people often ignored in the community.  
This past year, Dr. Murray spearheaded a program to help patients during his residency. His hospital is part of an underserved community in Pontiac, Michigan. The program, which originated at Massachusetts General Hospital, trains radiology staff how to screen for domestic violence during mammography and set up a referral system within the department to provide resources in the event a patient reports being abused at home. 
"My program faculty, specifically our Chair of Breast Imaging, Dr. Booth, has been extremely supportive in getting this initiative off the ground," Dr. Murray said. "It has been a great experience to train at a place that not only supports the residents' ideas but also acknowledges the importance of providing care for each patient as a whole person.   
"We want all women to know that women's imaging centers are safe spaces. They know they can come here and have the resources they need whether it's for medical care or a social need."  
Breast imaging is a personal matter to Dr. Murray. He never knew his maternal grandmother, who died of breast cancer when his mother was in her teens. Dr. Murray believes a caring, well-trained radiologist can take some unease out of mammograms.
"When my mom goes to a breast center and has a mammogram, she talks very highly of the radiologist and the way they relieve her anxiety," he said. "That's the kind of doctor I want to be … the kind my mom sees. Patient interaction is what got me into this."
He is returning to Nashville next summer to continue training through a breast imaging fellowship at Vanderbilt University. It will bring him back to the city where he earned his bachelor's degree and later began considering medical school. 
"It's really full circle getting to return to Nashville to finish my training," Dr. Murray said. "Growing up, if a friend or family member was referred to Vanderbilt, you knew they were going to be taken care of by the best. I am grateful for the opportunity to learn from those physicians." 
---
Help spread the word