By Katie Kirk
Enneagram Type 7: The Enthusiast
Years ago, I gained insight into my behaviors after an introduction to the Enneagram personality typing system. Why do I meticulously plan vacations down to the half-hour? I want time to explore everything. Why do I insist on dining in restaurants family style? I want a taste of everything. I'm an aficionado of living life to the fullest, an enthusiast who craves variety. Naturally, I'm pursuing a career that offers me just that.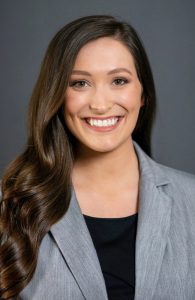 Hearing my mentor, Dr. Arsalan Saleem, on a podcast piqued my interest in interventional radiology. His words struck a chord with me; I felt like I had discovered gold. While exploring my interest in IR, I found the variety of procedures, body systems, imaging techniques, and patient populations I had been seeking. You can relieve portal hypertension with TIPS, destroy hepatocellular carcinoma (HCC) with 90Y embolization, or treat women suffering from fibroids with uterine fibroid embolization (UFE). However, variety isn't my only motivation.
Rotating on the IR service takes me back to my days hustling as a server in a busy, fast-paced restaurant. I was on my feet all day, dashing from table to table, mentally juggling multiple responsibilities, problem-solving on the fly, chatting with customers, and assisting wherever possible. I worked double shifts all weekend, yet the time flew by. I experience that in IR. Hours feel like minutes as I scrub into case after case. Observing procedures is like watching someone play a video game, and I'm eagerly waiting for my turn to grab the controller! In retrospect, I was satisfied with my $2.13/hour server job because of the pace, volume, and ambulatory nature, and I encountered those same qualities in IR. Furthermore, patients have excellent outcomes, and the minimally invasive nature means fewer risks and less downtime, which is a huge win.
Lastly, I'm thrilled about the existing treatments for women, and because there is so much innovation in the field, I'm confident that more is on the way. As a woman, I see a chance to advance research on female-specific pathologies and enhance existing women's treatments. Interventional radiologists are known as "medical cowboys," and as a native Texan, this cowgirl is eager to explore the tech frontier of women's health. In the words of Shania Twain, "Let's go, girls!"
Like many students, I learned about IR later than other specialties. As an officer of our interest group at the University of Texas Medical Branch, I'm organizing initiatives to expose students earlier. My plans include networking hours, IR skills workshops, and a rotation guide. As a Twitter enthusiast, I started an account for our interest group to share radiology content with students. Through my personal account, I've made connections with radiologists, programs, and radiology interest organizations. I've gained a deeper understanding of the discipline thanks to informational posts and webinars shared by people I follow. I hope this Twitter page has a similar impact on students, allowing them to make an informed specialty choice. Additionally, UTMB has exceptional radiology hopefuls, so I will be promoting my co-applicants as well.
With the residency match approaching, I'm balancing application prep, clinical rotations, extracurriculars, and maintaining a social life. The Electronic Residency Application Service® (ERAS®) has many aspects, so I'm staying organized with a checklist to ensure I complete everything early. I also devote a few days a week to working on my application and integrating mentor feedback. Most important, I'm enjoying life, focusing on my health, spending quality time with loved ones, and planning vacations. In the words of one of my mentors, "if you're not enjoying fourth year, you're doing it wrong!"
Katie is a fourth-year medical student at the University of Texas Medical Branch in Galveston. She's interested in interventional oncology, women's health, and improving health equity. She co-founded Street Medicine Galveston, a charitable organization that performs street outreach to address the medical and psychosocial needs of Galveston's unhoused. Her hobbies include dancing, gardening, attending trivia games with friends, and hanging out on the couch with her dog, Roo. You can follow her on Twitter @Kirkothyrotomy
---
Help spread the word