Already an Online Longitudinal Assessment question writer, Eric England, MD, happily solicits opinions and provides his own about the ABR's Initial Certification (IC) process.
As vice chair of education for the department of radiology at the University of Cincinnati School of Medicine, Dr. England gets feedback from residents who are going through the IC process. He said they were appreciative of content relevancy in this summer's Qualifying (Core) Exam.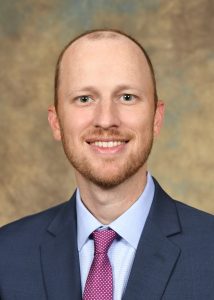 "There were hard questions, but they felt it wasn't esoteric knowledge," he said. "It was real-world stuff that they should know. They thought it was fair."
Dr. England said residents are happy they can take exams most anywhere they choose. When he was seeking initial certification, diagnostic radiology residents had to travel to take both computer-based and oral exams.
Now, institutions like his can host exam-takers in private rooms at their facilities. His program even provided lunch for residents during the three-day Qualifying (Core) Exam.
"I want them to be successful," Dr. England said. "I want to create an environment where they won't be as apprehensive taking the exam. It helps taking the exam in a familiar place. They don't have to worry about anything except focusing on the exam."
An ABR volunteer since 2014, he was among several radiologists who provided thoughts on the IC process by participating in a video call with ABR board members and a third-party moderator.
He's part of the Alliance of Directors and Vice Chairs of Education in Radiology, a special interest group of the Association of University Radiologists that gave feedback on the IC process as an important stakeholder organization.
"I've had a lot of ideas that I think would improve the overall certification process and was planning on submitting comments," he said. "When the outreach from the ABR came to our group, I thought it was a tremendous opportunity for me to discuss my thoughts on where things are and possible ideas for the future."
Dr. England said his fellow program directors haven't always felt that way. In the past, they were hesitant to believe that the ABR was open to their suggestions.
"Six or seven years ago, when I was early on in program directorship, there was a lot of concern that the ABR was not open to input and that there was a lack of transparency with the processes," he said. "I think program directors felt a lot of their thoughts weren't listened to."
He said that recent developments, such as remote exams, have shown that the ABR is adaptable to changing circumstances. The ABR has made improvements based on stakeholder comments regarding several subjects, including certification and the resident leave policy that was implemented last summer.
"Over the past few years, especially since COVID, I think there's been much more outreach, much more transparency where program directors have felt like they've been heard," Dr. England said. "I've also noticed it from our residents. They believe the ABR is willing to work with them."
---
Help spread the word