By Carl Merrow, MD
I love Chicago. I've been here many times for meetings and family trips, and I was excited to be coming here again this year for what seemed to be a perfect scenario — speaking and moderating at the RSNA annual meeting at 9 am on Sunday with the rest of the week to enjoy the many other opportunities of the conference and the surrounding city.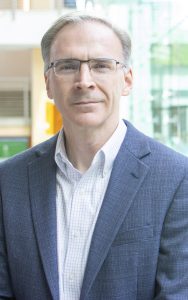 But Saturday (travel day), I developed mild congestion. I've been pretty diligent about masking (medical grade or higher) in any crowded public space, so I figured I would play it safe by wearing a tight-fitting KF94 throughout the meeting, fully expecting these symptoms to be from minor and transient inflammation. Trying to make last-minute alterations to a first-day opening session of RSNA over a sniffle seemed preposterous. I was more concerned about delivering an engaging talk, introducing the other lecturers correctly, and keeping the session on time.
The hour ("Pediatric Trauma: A Case-Based Session") went smoothly, and I was largely able to keep my distance from the other speakers and attendees. I masked in the McCormick Place corridors and two other sessions I attended. As so wonderfully happens despite the enormity of RSNA, I ran into several long-time friends, catching up on exciting developments in their lives. Things were going quite well … until I got a text from a close family member of their positive COVID test. So I left and took a test. For the first time since SARS-CoV-2 hit the world stage, I was positive. I've taken so many tests since the summer of 2020, and this was the first time I'd seen that extra line on the strip. I was a bit dumbstruck. The vaccines, masks, hand sanitizer, distancing … I'd done so many things right.
This dramatically changed the forecast for the week. I quickly notified everyone with whom I'd been in recent close contact of my diagnosis, including family, the lecturers in my session, and those friends I'd run into at RSNA. My biggest worry was that I had infected someone out of stupidity. I then started canceling reservations and strategizing a plan for remaining in Chicago vs. returning home to Cincinnati (by car, since I drove up). There were pros and cons to both considerations. The virtual viewing option for RSNA sessions would allow access regardless of my choice.
The key factors influencing my decision to stay were the availability of delivered food (and medications), the potential for getting caught up on some work (seriously — who thinks like that?), and the possibility that I would worsen during the drive home and/or expose more people by returning.
Tuning in live/on demand to the meeting from my hotel room has been mostly fantastic. No stuffy buses or uncomfortable suits, no rushing to get to another session or meeting … but also no human contact or new Chicago adventures, which has been disappointing for a week that I expected to be largely celebratory.
The congestion has progressed, but I've been relatively spared otherwise. I'm thankful to have had the vaccines/boosters and suspect they are preventing this from being worse.
My isolation will be over Thursday, and I expect I'll head home uneventfully. I've been able to accomplish most of the learning I hoped to do this week, but I've missed out on a lot of social and networking opportunities. The hardest part has been not seeing all the friends who are here. But that so many of them have reached out to offer help has been lovely, and it reminds me that we all need a supportive and encouraging community, especially when things aren't going as expected.
Arnold C. Merrow (Carl), MD, is an associate professor of clinical radiology at the University of Cincinnati College of Medicine and is the division director of emergency and critical care imaging for Cincinnati Children's Hospital Medical Center. He has edited four books on pediatric radiology, greatly enjoys teaching fellows and residents, and works closely with the Hemangioma and Vascular Malformations Center at Cincinnati Children's.
---
Help spread the word