By Emmanuel Jnr Amoateng
In August 2019, Match 2023 felt like a distant goal. I had all the time in the world to prepare. Match 2022 gave me a reality check. I knew my opportunity was coming in less than a year.
Graduating medical school is an accomplishment, but within the medical community, the real feat is matching. From the moment I decided to pursue radiology, I directed my efforts toward getting that match.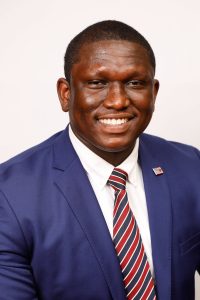 At the start of our journey, my twin brother and I wanted to be surgeons; Our friends called us "Surgery Bros." It made sense. We did everything together. We went to the same schools and got into the same medical program. However, this changed after I scrubbed in with multiple surgeons on different cases. Unlike my brother, I was no longer as captivated by surgery. I started contemplating who I was outside my brother, embracing the individuality and sense of exploration that came with it. It was around that time that a colleague introduced me to radiology. All she said was that radiology suited me. I didn't understand what that meant, so I kept exploring my options.
Then COVID-19 hit, and most research opportunities were canceled. Fortunately, Memorial Sloan Kettering Cancer Center (MSKCC) continued despite the restrictions. When I got the research position there, they asked me which field I was interested in. With a leap of faith, I chose radiology and I thank God every day because I fell in love with it. My research at MSKCC consisted of contouring organs for treatment plans of cancer patients and working on auto-segmentation contours for subsequent cancer treatments. This research became the highlight of my interest in radiology. From there, I knew what I wanted to be, and I was willing to work for it. I met Dr. Liberman, a radiologist, through a Zoom CV workshop at MSKCC, and I privately messaged her, hoping to build a connection with someone in my field of interest. She then connected me with my mentors, Dr. Bryce and Mr. Quansah from Rad-Aid. This is when I learned the power of networking.
Unfortunately, Step 1 of the USMLE didn't go as planned, and with the pressure of knowing the high requirements for radiology residency, I became discouraged. It was through conversation with a recent match radiology applicant that I learned that scores alone were no longer enough – programs wanted holistic applicants. Knowing this, I dedicated myself to being that well-rounded applicant. As an MS3, I've rotated through different hospitals and used the opportunity to introduce myself to people in their radiology departments, expressing interest and seeking opportunities to get involved. Although I didn't rotate at Staten Island University Hospital (SIUH), I reached out to Dr. Sarkany, the radiology program director, and he became one of my most involved mentors. Thanks to this, I have published work through Jacobi Hospital, MSKCC, and SIUH. I've also taken the initiative to work with Rad-Aid editing lectures, and with New York State Radiological Society as a student representative during their Lobby Day, and as part of their social media committee. I apply for away rotations, talk to residents, and attend online seminars to learn about programs that align with my interests. I've even reactivated my Twitter account and taken advantage of "Med Twitter," putting myself out there as a radiology applicant!
Even though these are ostensibly in preparation for Match 2023, I have found a home within the radiology community that allows me to be myself, and I plan to continue to be involved even beyond residency.


Emmanuel Jnr Amoateng is a rising fourth-year medical student from a seven-year BS/MD program at the CUNY School of Medicine, which used to be called Sophie Davis Biomedical Program. He's interested in global health and education, and is co-founder and marketing director of a nonprofit called Scholars of Our Society and Africa (SOSA). SOSA's goal and mission is to enrich growing minds in underprivileged societies. He also spearheads the mentorship program, which has been around since the onset of SOSA. His hobbies include working out, singing in a choir, playing trumpet, and traveling the world. You can follow him on Twitter @Doctorj762.
Emmanuel was invited to share his opinions using this forum. Edits by ABR staff were made for style or clarity.
---
Help spread the word