By Emily Van Antwerp
Match Day is a highly anticipated milestone for medical students. Four years of dedication and sacrifices lead up to one momentous day that can set the course of your life's trajectory. The process is daunting and, for me, it was confounded with being a DO and matching with my fiancé. From the start, I knew my ambition to match successfully required proper planning and organization.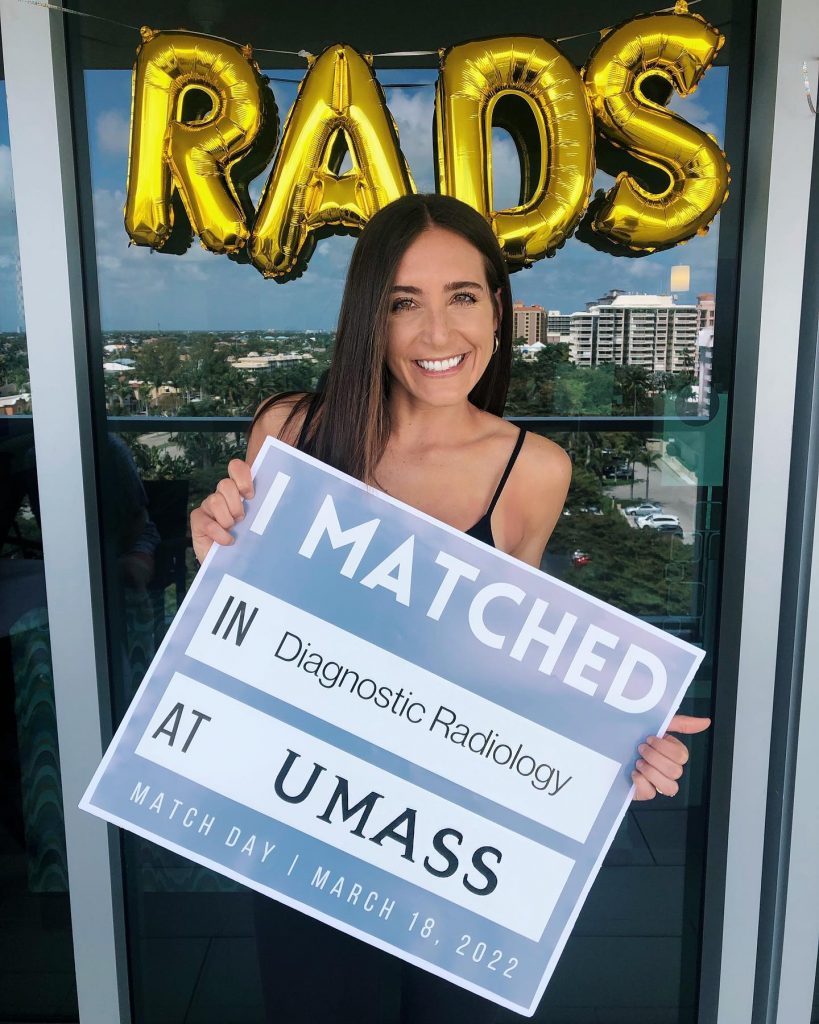 The matching journey is extensive and complex. It begins the first day of medical school as two years of preclinical grades and professional experiences start to shape your application for residency. Specifically, board exams, which included COMLEX Levels I and II and USMLE Steps 1 and 2 for me, play a crucial role in maximizing future opportunities. The third year of medical school was when I fell in love with my dream specialty, diagnostic radiology. I began to gear my application accordingly by tailoring my clinical experiences, seeking extracurricular opportunities within the field, and obtaining appropriate letters of recommendations.
The beginning of fourth year is when you can finally apply for The Match. In anticipation, my fiancé (applying in physical medicine and rehabilitation) and I took out extra loans to accommodate traveling for away rotations, ERAS application expenses, and NRMP registration and ranking fees. Strategizing as a couple, we decided to maximize our options by applying broadly across the nation. Prior to applying and to ensure we had adequate reach and safety programs, we used resources such as Residency Explorer and Freida. Moreover, although we had no specific geographic ties, we preferred to be on the East Coast for family reasons. We kept all this in mind when determining our final program list before we submitted our applications.  
In the anxious wait for interview invitations, we prepared as much as we could. We read interview books and went through 50 common interview questions with our potential answers. With the help of our preceptors, we held multiple mock interviews. After each interview, I listed the pros and cons of the program and keep a running rank list based on a point system I curated, based on what was important to me. For example, research opportunities and community outreach were two factors I was looking for.
Once interviews were complete, my fiancé and I made our own rank lists. We then came together to formulate one combined list. Couples matching requires compromise and sacrifice. We were able to create a rank list of 250 combinations. The hardest part was choosing our top 25 combinations. Interviews showed us that there are so many incredible programs, and we knew we would be happy anywhere within our top 25. 
Now that The Match is over, I am thrilled to announce that I have matched into a diagnostic residency position at UMass Chan – Baystate. I am overwhelmed with relief and could not be happier with this outcome. My advice to future peers is to prepare diligently, seek guidance and support as needed, be kind to yourself, and ultimately, trust the process. Yes, the destination is important but you should be just as proud of the journey.
Emily Van Antwerp is a fourth-year medical student who's graduating in May from West Virginia School of Osteopathic Medicine. She grew up near Boston and earned her bachelor's degree in biology at The Ohio State University. She will begin her intern year at the University of Connecticut this July along with her fiance, and then start her radiology residency at UMass Chan – Baystate the following year. Her hobbies include running marathons, cooking healthy foods, and being a dog mom to an adorable Shorkie named Harley. You can follow her on Twitter @VanantwerpEmily and Instagram at emvanantwerp.
Emily was invited to share her opinions on the subject using this forum. Edits by ABR staff were made for style or clarity.
---
Help spread the word