Longtime radiology leader Richard Duszak, MD, was named the University of Mississippi Medical Center's Chair of Radiology last month.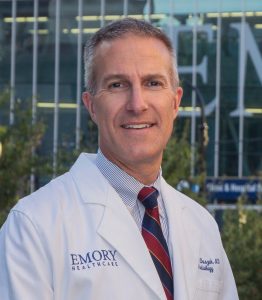 Dr. Duszak presently serves as Professor and Vice Chair for Health Policy and Practice in the Department of Radiology and Imaging Services at the Emory University School of Medicine in Atlanta. Before that, he was founding CEO of the Neiman Health Policy Institute and served as President and Chief Executive of West Reading Radiology Associates in Pennsylvania.
He has served on numerous professional committees, task forces, work groups, and editorial boards; he's currently the chancellor overseeing the American College of Radiology's Leadership Institute. He has also won numerous awards and co-authored more than 200 original research articles. Dr. Duszak is a former ABR volunteer, serving as an oral examiner and as part of the Diagnostic Radiology Non-Interpretive Skills Committee.
We recently asked him a few questions about his new career opportunity in Mississippi.
How did you learn about the position?
The chair of obstetrics and gynecology at UMMC is a long-time friend of mine. He knew that I was exploring academic radiology chair opportunities, so he reached out to me as soon as he heard that the search had opened at UMMC.
Once you got started in the interviewing process, what was it about the opportunity that most interested you?
I spent the first 18 years of my career in private community-based practice, so much of my work (both as an administrator and researcher) in my subsequent eight years in an academic practice focused on the challenges of academic medical centers outside of their traditional ivory towers. That includes things like community hospital integration and improving patient access in broader—and often rural—communities. The fact that UMMC is the only academic medical center in a state that faces significant economic and healthcare delivery challenges appealed to me in a lot of ways because of the countless opportunities to advance care in innovative ways. But what really sold it for me was the people with whom I'll be working. The people at UMMC are incredibly collaborative and collegial and mission-driven.
What are you looking forward to doing in the new position?
Academics, by their very nature, typically strive to be interesting. But good leaders are different—they need to be interested. Mentorship and sponsorship are both huge priorities for me. Since I pivoted to academics, helping trainees and faculty grow has been the most satisfying part of my job. Aside from improving clinical operations, advancing education, and building research programs, I'm most looking forward to enabling a team to grow both personally and collectively to advance those missions.
How different will this job be from others you have had?
I've had quite a diverse career, serving as president of a private group, vice-chair of an academic practice, founder of a research institute, leader in professional organizations, and as a national policymaker. Serving as chair of radiology at UMMC will allow me to integrate a lot of those experiential building blocks in novel and creative ways aligned with UMMC's unique status and mission.
You mentioned on social media that, as a Pennsylvania native, you could never have predicted that you would someday work in Mississippi. How much are you looking forward to getting settled in there?
Although I grew up in Pennsylvania, we've lived in the south now for 20 years, so while the "kid me" would never have predicted relocating to a state that I probably then couldn't have identified on a map, this is a quite logical transition for me at this career stage. What we've learned during a few moves is that while we're not southerners by birth, we are southerners by choice, and enjoy the culture and community of smaller southern cities. The people we have met at UMMC and the Jackson area have been amazingly kind and caring. We're very excited that we'll be moving in June, and I'll be starting on July 1, orienting to UMMC with our new residents!
Dr. Duszak was invited to share his opinions using this forum. Edits by ABR staff were made for style or clarity.
---
Help spread the word