When Mary Mahoney, MD, discusses her plans for 2021 as the new Radiological Society of North America (RSNA) president, she says things are "up in the air." Interestingly, that's one place she won't spend much time this year despite the organization's global reach.
COVID-19, of course, is to blame. With in-person meetings shut down across the world, Dr. Mahoney and the organization are hoping for the best but prepared to be grounded for at least part of the year.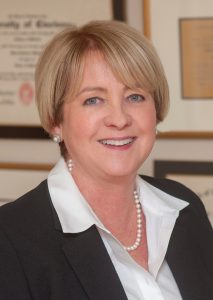 "It's hard to make plans, as much as we see a light at the end of the tunnel," said Dr. Mahoney, who has no RSNA travel planned before July.
COVID or not, RSNA will hold its annual meeting as always after Thanksgiving. Last year's meeting was virtual; Dr. Mahoney and RSNA leadership hope to split this fall's event between in-person and remote. The theme, "Redefining Radiology," reflects Dr. Mahoney's attitude about the field in 2021 and beyond.
"Coming out of COVID, we realize that we need to redefine a lot of things about our world and how we work," she said. "We have to find new and innovative ways to teach and communicate. We need to take some of the adaptations we've made and build on them in the future and find new ways we can work."
Something as commonplace as working from home is complicated. Along with serving as the Benjamin Felson Endowed Chair and professor of radiology at the University of Cincinnati (UC), Dr. Mahoney is the chief of imaging services at UC Health. Before COVID, her facility didn't have a work-from-home program.
Their diagnostic radiologists are now working remotely after changes were made to reading room staffing. While those adjustments helped those radiologists, they had downstream impacts.
"We had to consider how it would affect technologists, clinicians, and residents," Dr. Mahoney said. "All of this has made me stop to figure out how we go forward from here and learn from what we've done differently. Out of necessity, we had to show a lot of creativity."
Dr. Mahoney has a decorated history as a volunteer. She served on the ABR's Board of Trustees from 2010-'15 and the Board of Governors from 2015-'18. A member of the American College of Radiology's Board of Chancellors, she has held committee or leadership positions with the RSNA, Society of Breast Imaging, and American Roentgen Ray Society.
One of Dr. Mahoney's friends in the field also held many of those leadership positions. Val Jackson, MD, who retired as ABR executive director last year, was on ABR boards and served as RSNA president in 2019. Dr. Jackson said Dr. Mahoney has everything required to be a successful president.
"Mary is an outstanding leader who makes major contributions to every organization she joins," Dr. Jackson said. "She was an excellent member of the ABR Board of Trustees and Board of Governors, and I had the privilege of working with her on the RSNA Board of Directors. She has a thoughtful, reasonable, and practical approach to issues and has boundless energy to take on projects."
As president, Dr. Mahoney will continue to focus on patient-centered care, stress the value of artificial intelligence, and support the society's goal of fostering diversity, equity, and inclusion in radiology leadership and practice.
The mother of a daughter in medical school, she wants to ensure that women are encouraged to enter the field and welcomed after graduation.
"There is a great need for more women in not just radiology, but medicine as a whole," Dr. Mahoney said. "At this point in my career, I get more satisfaction out of helping a young woman in the field than I do in publishing another paper."
---
Help spread the word