By Leah Braswell, MD
"The greatness of a community is most accurately measured by the compassionate actions of its members."
–Coretta Scott King
Growing up, nearly everyone in our small town got their vaccines at my dad's clinic. A self-described "country" doctor, Dad brought pig hearts to our classes to teach anatomy, responded to playground emergencies, and remembered the city pool closing when he was a kid to stop the spread of polio.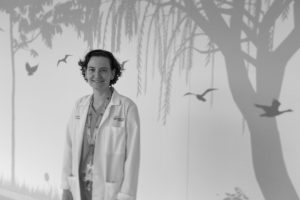 Dad spent his career caring for the people in our community. It wasn't and isn't a perfect town: racism, poverty, and classism existed there (and still do). Still, I learned that everyone benefits when a collective and compassionate ethos is nurtured.
So, when a colleague asked me a few weeks ago if I would be receiving a COVID-19 vaccine once it became available at our hospital, my answer was an emphatic "Yes." I got the first dose with a sense of gratitude, relief, and hope. I eagerly shared photos on my social media channels (#FauciOuchie). I had no serious side effects.
The vaccines have been thoroughly tested, and they prevent serious COVID infection. They're safe. I trust the approval process, and I'm in awe of the efficiency in which they were designed and implemented. I look forward to more widespread distribution throughout our country, and I desperately hope that this will be accomplished quickly.
I cannot bear the thought of spreading a preventable infection to my team or to my patients. Staying home, taking precautions, and having a sore arm aren't fun, but I know that I'm helping to keep our community safer.
I'm doing my part to stop this pandemic. I encourage you to get your vaccine, advocate for vaccination in your community, and keep wearing masks. Better days are ahead.
Dr. Braswell is associate chief of interventional radiology and program director of the pediatric IR fellowship at Nationwide Children's Hospital in Columbus, Ohio. She earned her undergraduate degree at The University of the South in Sewanee, Tennessee. She completed her medical degree as well as residency and pediatric and pediatric interventional radiology fellowships at the University of Arkansas/Arkansas Childrens' Hospital. She is an active member of the Board of Directors of the Society for Pediatric Interventional Radiology (SPIR).
---
Help spread the word