Compiling ABR exams and assessments and conducting oral exams takes a legion of subject-matter volunteers. There are approximately 1,200 who work in mostly small groups to ensure that initial certification and maintenance of certification processes are fair and relevant.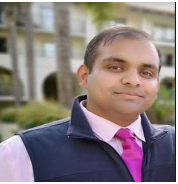 One interested diplomate, Arjit Baghwala, MS, is excited to join a team when the need arises. A radiation physicist in the department of radiation oncology at Houston Methodist Hospital, Baghwala recently learned that his volunteer application had been approved. Once an appropriate opening occurs, he will be assigned to a committee to start giving back to his medical physics field.
"I have always been intrigued with the work that is being done behind the scenes, especially when it involves running a big organization such as the ABR," Baghwala said. "Over the years, as I cleared the steps to get board-certified, I had a lot of respect for the volunteers who gave up so much of their personal time to ensure the smooth operations, forming exam questions, the grading process, being an examiner, and the constant communication with members. I would say it was this journey that got me interested in becoming an ABR volunteer."
Organizations must adapt to changing environments; the ABR's move to remote exams next year is an example. Baghwala sees the value in new voices and diverse ideas helping the ABR continue effectively serving diplomates and candidates.
"The ABR has done a phenomenal job listening to its members and handling sensitive issues with respect and grace," he said. "There is still lot of work to be done, and with my diverse background and clinical experience, as a volunteer, I look forward to being a good representation of the members of our organization."
Baghwala knows the best way to learn about exams and assessments is by getting involved. He looks forward to sharing his knowledge and learning from his peers.
"The best way to contribute effectively is to first be a student of the process," he said. "This opportunity is new and out of my comfort zone, so there is always lots of room to learn. I am looking forward to learning about the exam process, the coordination of testing, and finances as an ABR volunteer. I also am looking forward to interacting with several leaders of our organization and learning from them."
For more information on becoming a volunteer, please visit our website, click on a specialty, and select the volunteer option. Arjit Baghwala can be found on Twitter at @ArjitB_medphys.
---
Help spread the word