Long before she became one, Mary S. (Mimi) Newell, MD, knew she wanted to serve as an ABR volunteer. Her mind was made up before she passed her oral certifying exam in Louisville, Kentucky.
"The day I took my radiology oral boards was one of the most memorable and even enjoyable days," she said. "Of course, I was very anxious heading into them, but I had worked hard for months and felt that I knew my specialty as well as I ever would. I was met by kind, engaged examiners who did their best to put me at ease and encouraged me to demonstrate what I had learned.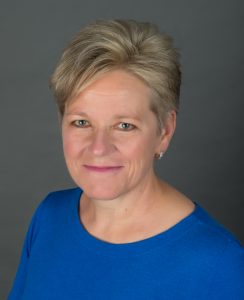 "I remember thinking that day, while waiting in the Louisville airport, that I would love to be part of the exam process and the ABR."
Dr. Newell has been an ABR volunteer since 2008, serving as an oral board examiner, member of the Maintenance of Certification breast committee, and chair of the breast certifying and Online Longitudinal Assessment committees.
She joined the Board of Trustees (BOT) in 2015 and was selected as vice-chair for diagnostic radiology in 2018. Dr. Newell was named to the Board of Governors (BOG) this past October. The change switches her focus and activities.
"Our charge on the ABR BOT was to optimize the various administered exams and look for ways to innovate and improve the exam process," she said. "My BOG work is in its early days, but I will concentrate more on broader organizational approach and vision. I am working with really smart, committed people, and I look forward to this new chapter."
Volunteering is nothing new for Dr. Newell. She serves on the board of the Society of Breast Imaging and chairs both the American College of Radiology Joint Practice Parameters and Technical Standards Committee and the Subcommittee on BI-RADS. She also is president of the Georgia Radiological Society.
A professor of radiology and imaging sciences at Emory University in Atlanta and a member of its breast imaging division and a former private practice diagnostic radiologist, Dr. Newell carries a wealth of academic and clinical experience. She knows the importance of having a board that balances the two worlds.
"Many radiology organizations, societies, and committees tend to be top-heavy with academic radiologists, while the majority of their fellow imagers work in private practice," she said. "It is vital to hear the perspective and concerns of both groups, as each is invaluable to the other and our patients. I will channel my experiences from working with Radiological Associates of NW Indiana as well as at Emory to help keep the interests of both practice types in focus."
---
Help spread the word