July 18, 2019
Contact: Rodney Campbell
rcampbell@theabr.org
(520) 790-2900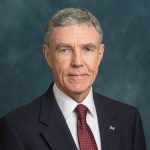 Former American Board of Radiology (ABR) President
N. Reed Dunnick, MD
, has been named as the organization's associate executive director for diagnostic radiology. Dr. Dunnick has served 26 years as Fred Jenner Hodges Professor and Chair of the Department of Radiology at the University of Michigan.
Dr. Dunnick will represent ABR diagnostic radiology trustees and serve as liaison with staff. The ABR's four associate executive directors, including those for interventional radiology, medical physics, and radiation oncology, work part-time for the ABR.
Dr. Dunnick has written 313 scientific papers, 62 book chapters, and 10 books on various aspects of radiology, especially diagnostic oncology, uroradiology, and administration. He has served as visiting professor to 85 medical centers, as a guest faculty for 460 continuing medical education courses, and delivered 26 named lectures. He has served on the editorial boards of 13 peer review journals.
He has been president of the Society of Uroradiology, the Society of Computed Body Tomography/Magnetic Resonance, the American Roentgen Ray Society, the Michigan Radiological Society, the Association of University Radiologists, the Society of Chairs of Academic Radiology Departments, and the Radiological Society of North America.
Dr. Dunnick earned his medical degree from Cornell University and served residencies at Strong Memorial Hospital in internal medicine and Stanford University Hospital in radiology. He is a member at the University of Michigan Comprehensive Cancer Center and University of Michigan Frankel Cardiovascular Center.
###
Established in 1934, the ABR's mission is to certify that our diplomates demonstrate the requisite knowledge, skill, and understanding of their disciplines to the benefit of patients. The ABR is one of 24 Member Boards of the American Board of Medical Specialties.
---
Help spread the word