April 8, 2020
Contact: Rodney Campbell
rcampbell@theabr.org
(520) 790-2900
The ABR has hired two associate executive directors (AEDs): Geoffrey Ibbott, PhD (medical physics) and James Spies, MD (interventional radiology). Both will begin their new duties July 1.
Both will serve as part-time ABR staff and act as liaisons to the board and other stakeholders. There are four AEDs, including those for diagnostic radiology and radiation oncology.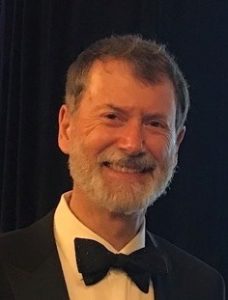 Dr. Ibbott is professor emeritus and former chair of the department of radiation physics at the University of Texas MD Anderson Cancer Center in Houston. He earned a bachelor's degree in physics from the University of Colorado, a master's in medical physics from the University of Colorado Health Sciences Center, and a PhD in radiation biology from Colorado State University.
He was the director of the Ibbott Lab, which investigated three-dimensional dosimetry techniques, most recently developing dosimetry systems for use in MRI-guided radiation therapy. He has been author or coauthor of approximately 200 publications in refereed journals.
Dr. Ibbott was the chair of Subcommittee 62C of the International Electrotechnical Commission from 2004 to 2016 and is an active member of the American Association of Physicists in Medicine, for which he served as president in 1999, the American College of Radiology (ACR), the American Society for Radiation Oncology, and the International Organization of Medical Physics.
He was an ABR trustee and governor from 2007 to 2017, including time as secretary-treasurer.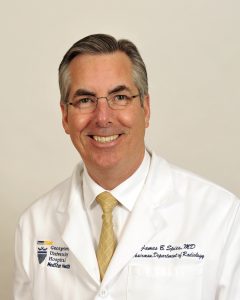 Dr. Spies is chief of service and chairman of the department of radiology at Georgetown University Hospital. He graduated from Georgetown University School of Medicine in 1980. Dr. Spies completed radiology residency at the University of California, San Francisco and a fellowship at New York University in vascular and interventional radiology.
He has an active practice in uterine embolization for fibroids, has performed extensive research on the procedure, and is recognized as an international authority. He has authored more than 100 published scientific studies, given more than 400 invited presentations, and edited a text on uterine embolization.
A fellow of the Society of Interventional Radiology (SIR), Dr. Spies served as the chair of the SIR Foundation from 2006 to 2008 and SIR President from 2014 to 2015. He received the SIR Gold Medal in 2019.
He is also fellow of the ACR and has been named a distinguished fellow of the Cardiovascular and Interventional Radiology Society of Europe (CIRSE) and an honorary fellow of the British Society of Interventional Radiology. He has been an ABR trustee since 2016.
###
Established in 1934, the ABR's mission is to certify that our diplomates demonstrate the requisite knowledge, skill, and understanding of their disciplines to the benefit of patients. The ABR is one of 24 Member Boards of the American Board of Medical Specialties.
---
Help spread the word